Maildir to MBOX Converter to Batch Export Dovecot Maildir to MBOX
Admin
| Cloud Backup Email Conversion Featured How to's Outlook Software Technology | 4
minutes read
| Last updated on February 8th, 2023,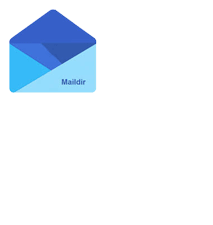 Most of the users are looking for guidance to convert Dovecot Maildir to MBOX format with all details. And, if you are the same then, no need to worry because you are at the right place here you will definitely get the best Maildir to MBOX Converter software that guides to all for converting Maildir file to MBOX format without any trouble. To know more about the software you need to follow the entire post which not only brief about solution even it also instructs step by step working process to convert Maildir to MBOX Windows. Keep reading…
Working Guide to Migrate Maildir to MBOX File Format
Get ready to follow the step by step working guide to save, open and view Maildir files to MBOX format. All the steps are properly described below:
Steps of Conversion:
Step 1: Download and Open Maildir Converter
First, you need to click to download the program on your Windows machine. Then, launch the tool and open it properly.
Step 2: Choose Select File Button
After open the program, a performer can go through with the Select File button available on the top menu bar of the software screen as mentioned in the above screenshot.
Step 3: Import Maildir Files to Convert into MBOX
Now, it's time to add the Maildir data files for conversion to MBOX. The Maildir to MBOX Converter provide Add File or Add Folder option that will help out to import the files. After choosing the files, go to the Next button.
Step 4: Shows Maildir Folder Structure
In this step, everyone can see the proper folder structure of imported Maildir that you can clearly see on the left pane of the software screen as mentioned in the picture.
Step 5: Take a Preview & Save Attachment Option
After adding the Maildir files, now the Maildir to MBOX Tool facilitates preview of desire Maildir email by clicking on it. Also, get save attachment option under the preview section for saving Maildir email attachment at suitable location.
Step 6: Hit the Export and Choose MBOX Option
At this time directly click on the Export option which opens another Window with many output options. For the list of saving output options you can choose MBOX (Export as MBOX) option.
Step 7: Apply Filters/Rules for Selective File Process
Now, collect the various filters like- email filters (to, cc, bcc, and subject), date filters (as per the date) and attachment filters (save emails that has attachments and don't save emails that has attachments) for moving select files of Maildir to MBOX format.
Step 8: Select the Destination & Hit Export
In this step, you have to choose the destination for saving the MBOX files. So, click on the Browse tab and put the location to save MBOX files on your machine. Then, press on the Export button.
Step 9: Starts the Live Maildir to MBOX Conversion
An instant click on the Export tab will begins the Maildir file to MBOX conversion procedure on your software screen. It shows the live status with complete and incomplete status.
Step 10: Finish the Process
At last, when the Maildir to MBOX process is complete the software shows you a successful message on the screen i.e. Conversion is Done. So, click Ok and go to check your all output MBOX files on your machine.
Why Choose CubexSoft Maildir to MBOX Converter?
As we know perfectly that manual solution is not available to convert Maildir to MBOX Windows, so it's better to go with the safe and reliable Maildir to MBOX Converter. The software integrated with amazing features and functionalities like- batch facility, preview facility, save attachments, etc. The batch function of software supports the user to perform large database conversion at once time. The preview facility provides a brief view of Maildir emails before to start the process. Save Attachment option will help out to save Maildir email attachment. Additionally, it offers various filtrations like- email filters, date filters and attachment filters for selective Maildir to MBOX conversion. Also, the software gives the facility to choose the output location path as per the user requirement. Don't worry, it's a time-saving utility and also familiar with all technical and non-technical users as it comes with simple GUI. The Maildir to MBOX Converter software supports all the latest and earliest Windows editions including Windows 10. Moreover, it offers to save report button at the end of the process that can save the complete conversion report for analyzing purpose. So, feel free to go with this trustworthy solution to convert Dovecot Maildir to MBOX file format.
Client Review's After Using Maildir to MBOX Tool
Thanks to the CubexSoft Team for providing me this advance utility that converts my 10,000+ Maildir data files to MBOX format on Windows 10. It is the direct technique to perform Maildir to MBOX conversion process in a single go.

I am very impressed with the amazing performance and the successful result of this Maildir to MBOX utility as it quickly migrate all Maildir email messages to MBOX file format including all email attachments and exact formatting.

I must say that whenever there is a need to convert Maildir file to MBOX format, you should always try this wonderful Maildir to MBOX Converter program which not only export whole Maildir database even it also facilitates never-ending benefits to perform better conversion procedure. Thanks for suggested to me as well!
Final Verdict
Converting Maildir data to MBOX format is not an easy task to perform, but Maildir to MBOX Converter is the only way that makes the process very easier. So, free to download the Maildir to MBOX Converter in demo edition and export the first 20 Maildir emails to MBOX format without charge any single cost. For the above 20 Maildir email conversion, you require to purchase the license edition of this software.
Similar Post