Maildir to Gmail Tool – To Export and Import Maildir to Gmail / G Suite Accounts
Admin
| Cloud Backup Email Conversion Featured How to's Software Technology | 5
minutes read
| Last updated on February 8th, 2023,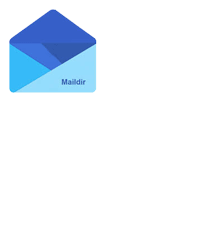 Are you seeking for a solution to migrate Maildir to Gmail, G Suite or Google Apps? Then, it is one of the correct platform for you to resolve the issue of Maildir to Google Apps migration with complete details. So, no need to worry just follow this post that provides safe Maildir to Gmail Tool which is the only direct technique to export Maildir to G Suite account. Let's start the discussion by getting mostly asked query as mentioned below:
"I am fed-up with my email storage structure. Actually, I have been using a Maildir supported email client that contains 5000+ Maildir files that I want to access into the Gmail account. Now, the problem is I don't have any idea about to import Maildir to Gmail. Can you help me by suggesting the appropriate solution of how to migrate Maildir to Gmail or G Suite Account?"
How to Migrate Maildir to Gmail, G Suite or Google Apps Directly?
Download Maildir to Gmail Tool Free Edition that allows to import first 20 files of Maildir to G Suite or Gmail account without paying any single charges. For freely install and access demo edition of Maildir to Gmail Tool you can click on the download button given below:
Why User Need to Migrate Maildir to Gmail Account?
To convert the Maildir to G Suite or Gmail account, Users can simply access the emails on different devices like- smartphones, computer, tablets, and laptops by adding the Gmail account.
The security features is a fantastic way to safely access the emails into Gmail account. It facilitates the malware and virus checking. That's why user want to migrate Maildir to Gmail account.
Gmail is one of the top low-cost application that can be access by a normal user. It charge zero maintenance cost and stores the data on the cloud. And, we know perfectly that the cloud storage is the trustable nowadays for managing email, documents, and events.
Also, it offers some advance facilities i.e. IM storage, video chat and many more others that attract the user for exporting Maildir to Gmail account.
Moreover, the users can configure their Hotmail and Yahoo account into Gmail. It helps to manage your all emails from the different accounts into a single account.
Follow the Steps to Export Maildir to Gmail Email Account
Now, I think its the correct time to follow the simple and effortless working guide to perform Maildir to Gmail migration process. So, let's go through with the step by step guide as described below:
Step 1: Initially, you need to download the Maildir Converter software on your Windows system and launch it properly.
Step 2: Open the application and directly you can go to the "Select File" option available on the top menu bar of the software screen as given below.
Step 3: Now, the Select File box appears in which you will get two option i.e. Select File or Select Folder button. So, add the Maildir files by using these two options. And, then hit on the Open button.
Step 4: In this Window, you can collect the complete Maildir folder structure on the left panel of the software screen. You can select and deselect the folder for converting desired folder Maildir to Gmail account.
Step 5: After that, you can grab the preview feature, so click on any Maildir emails and collect the brief of that email in the below section. Also, take the benefit of Save Attachment option, if you need to save Maildir email attachment at the desired location.
Step 6: Quickly, press on the Export button available on the top menu bar that opens another Window.
Step 7: Now, choose the Gmail (Export to Gmail Account) option from the list of select saving options.
Step 8: In this step, you can opt Apply Filter/Rules option and get multiple filters (email filters, date filters, and attachment filters) to perform selective Maildir to Gmail conversion.
Step 9: After applying the various filters, you can enter the correct login ID and Password of your Gmail or G Suite account. And then you need to click on the Connect button.
Step 10: Finally, click on the Export button art last that starts the live Maildir to Gmail migration process on your software screen. It shows the complete progress on your screen with the green status bar.
Step 11: Lastly, the Maildir to G Suite process is complete by showing a successful message on the screen i.e. Export Completed Successfully. So, you can click Ok to finish it. And, opt Save Report button if you need it.
Few FAQS about Maildir to Gmail Tool Asked by Our Clients
Ques 1. Can I export a bunch of Maildir files to the Gmail account at once round only?
Ans. Yes, with the batch functionality of Maildir to Gmail Tool anyone can migrate unlimited Maildir to G Suite, Gmail or Google Apps in a single go.
Ques 2. The tool requires my Gmail account credentials. How can I trust it?
Ans. Not to worry, the Maildir to Gmail Tool needs the correct login details of your Gmail account so that it can safely transfer all Maildir files into the same Gmail account.
Ques 3. What is type of filters exist in the Apply Filter/Rules section?
Ans. The Apply Filter/Rules Window includes email filters (To, CC, BCC, and Subject), date filters (Between From and To date range), and attachment filters (save emails that has attachments and don't save emails that has attachments).
Ques 4. What is the use of the Save Report button?
Ans. At the end of the process, you will get a save report button that helps the user to save the whole Maildir to Gmail migration report. By clicking on this button at once you can open the report from your desktop.
Ques 5. I don't have as much technical knowledge. Can I use Maildir to Gmail Tool?
Ans. Don't worry, the Maildir to G Suite Tool does not require technical expertise. You can simply access and operate this software with the basic knowledge of computer.
Ques 6. Is this utility workable on Windows 10 edition?
Ans. The Maildir to Gmail Tool is a completely Windows-based application that supports all previous and latest Windows editions including Windows 7, 8, 8.1, 10, etc.
Last Words
In the absence of a manual method to import Maildir to Gmail account, the post offered a direct key for users to solve their Maildir to G Suite or Gmail conversion i.e. Maildir to Gmail Tool. By getting the step by step guide of this professional utility, I am 100% that you can migrate Maildir to Gmail account perfectly. To purchase the software, you can quickly press the Buy Now button.
Similar Post