How to Convert Maildir to Outlook using Maildir to PST Converter Tool?
Admin
| Email Conversion Featured How to's Outlook Software Technology | 4
minutes read
| Last updated on February 8th, 2023,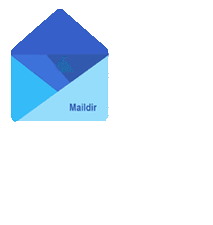 "Hey guys, my name is Elysian William and I have some Dovecot Maildir emails which I want to access on my local machine. But, the process I faced that Maildir files directory does not permits me to access directly. Then, one of my well-wisher suggest me to convert Maildir to PST format. But, I don't know how to do this task without any problem. Can you please tell me the safe technique for Maildir copy files to PST Outlook 2019?
Looking for the solution to export Dovecot Maildir to Outlook application? If yes, then you are at the right place as here you will definitely get one of the finest solution for completing this task. In this post we have explained about Maildir to PST Converter which is the perfect tool that can quickly help users for Maildir copy files to PST format without any problem. But before to directly go to the solution, first let's have a quick look on some basic information about Maildir and Outlook.
Maildir: – It is an email format that stored email messages over the server in its database. In Maildir file format, each and every email messages is saved a separate file with the unique filename and every Maildir folder known as directory. Maildir directory is divided into three sub directory i.e. cur, tmp, and new.
Outlook: – It is a common email application which is introduced by Microsoft and used by so many organization, professionals, and home users. This application manages personal emails, contacts, calendars, notes, etc. in a safe way and facilitates a good level user interface. This is the primary reason why people exporting to MS Outlook.
Maildir to PST Converter – Tool to Convert Files from Maildir to Outlook
Get Free to download edition of Maildir Converter that can freely export first 20 files of Maildir to file Outlook 2019, 2016, 2013, 2010, and 2007 edition without any cost. Now, directly follow the simplest working steps to import Maildir files to PST Outlook.
Steps of Conversion:
Step 1 – Download Maildir to PST Converter program on your Windows system
Step 2 – Open the program and directly go to the Select File button from the top menu bar.
Step 3 – Now, add Maildir files by using Select File or Select Folder button and then Click Next button
Step 4 – In this step, software loads all the Maildir folders that you can see in left pane where you can choose folders for conversion as per requirement
Step 5 – After selecting folders, get the preview benefit by clicking on any Maildir email and also avail Save Attachment option under the preview section.
Step 6 – Click on the Export button which opens a new box, where you can choose PST as an output format from the list shown in the screenshot.
Step 7 – Take the benefit of Apply Filters/Rules which offers email filters, date filters and attachments filters. Also, you can split large size of files by using PST split option.
Step 8 – Add the Destination Path by clicking on the Browse button and then hit Export button.
Step 9 – Now, the Maildir to Outlook conversion process starts on your software screen which shows the complete status
Step 10 – Finally, the process is complete by showing a message on your screen i.e. Conversion Done Successfully. So, click OK and opt Save Report for saving complete conversion report.
Features and Benefits:-
Maildir to PST Converter Tool is 100% safe and wonderful solution for users.
It offers batch file functionality where you have the option to perform unlimited file conversion.
Preview benefits also here for providing brief view of Maildir emails.
Separate option to Save Attachment available for saving emails from Maildir to Outlook.
Simpler graphical interface of software can be easy to handle by any user.
Email filters, date filters and attachment filters supports user to perform selective data conversion.
PST split option is capable to break the large size of files.
Save Dovecot Maildir to PST conversion process by using Save Report button.
Easily save output PST files at any desirable location as the software gives the option to choose location.
To migrate Maildir to Outlook PST format, you can use the program on any Windows OS platform.
Last Words
After getting complete guide, features and benefits of Maildir to PST Converter program now you can perfectly come out your problem of how to convert Maildir to PST file format without losing a single file or folder. To know more about the Maildir to Outlook Tool just go and install the program using free trial version and transfer first 20 Maildir files to PST format at free of cost. For more file conversion, directly purchase license edition.
Similar Post