Maildir to Office 365 Tool to Save, Open & View Maildir Messages to O365 Cloud Account
Admin
| Cloud Backup Email Conversion How to's Software Technology | 4
minutes read
| Last updated on February 8th, 2023,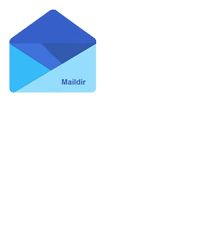 Are you waiting for an appropriate solution to import Maildir to Office 365 cloud account directly? If your answer is yes, then you don't have to wait anymore as here you will definitely get complete step by step guide that will help out to perform Maildir data into O365 conversion procedure. Just keep reading this entire post that not only facilitates with the best solution even it also give you some other information related with Maildir to Office 365 conversion.
Before to directly start with the working guide to solve your problem, first I think we should look over some user queries which are mentioned below.
User 1

"One of my colleague has been sent me 100 Maildir files that includes the important confidential details about our organization. And, without wasting any time I want to access these all files Maildir to Office 365 cloud account. So, do you have any idea that how I can access Maildir messages to Office 365 account without any error?"

User 2

"After performing so many possible ways to save Maildir data into O365 cloud storage, I did not get any reliable solution for it. And, now I am fed-up with this as I need to quickly view my whole emails of Maildir to Office 365 account. Can you suggest me something best that can give me successful result without waste any more time? Your help will be highly appreciated. Thanks."

User 3

Hey, Presently I am working on a Postfix servers and now I have about 20,000 files in postfix mailbox. As per getting order from my boss I have to shift all these important Maildir files into Cloud storage i.e. Office 365 application. But not a single idea comes into my mind which help me to complete this task. Is there any solution available for this? If yes, then please let me know.
Reliable Working Steps to Import Maildir to Office 365 Directly
Step 1 – First you need to download Maildir Converter on any Windows version that your machine supported.
Step 2 – After that directly go to choose the "Select File" option from the top section of the software screen as shown in given picture.
Step 3 – Now, use Select File or Select Folder button from the new Window that helps to insert the files to perform Maildir to Office 365 conversion.
Step 4 – In this step, you can see the complete folder structure on the left pane that you imported. Choose the folders as per the requirement.
Step 5 – Grab the Preview facility by clicking on desirable Maildir email and opt Save Attachment option given in preview section.
Step 6 – After getting preview, you can click on the "Export" button available on the top menu bar to continure Maildir to Office 365 process.
Step 7 – From the new Window, you have to choose Office 365 option from the list. And, for getting advance filters you need to go Apply Filter/Rules >> Set Filters.
Step 8 – Now, just fill the correct login ID and Password of your Office 365 account so that the software can properly move the data. Then, hit Export button.
Step 9 – In this, performer can view the live import Maildir to Office 365 process on the software screen alongwith complete status.
Step 10 – Finally, the process is done by appearing a successful message on your screen i.e. Export Completed Successfully. Click OK to finish it properly.
Why Maildir to Office 365 Tool is Best Approach?
This software is very high in its demand nowadays because of its quality features and benefits. And, some of the highlighted beneficial features we have discussed below.
Tool gives 100% Guarantee to its users for safely transfer Maildir messages to Office 365 account directly.
Anyone can batch convert Maildir to Office 365 cloud account in a single round of process only.
Does not need technical knowledge to use this solution as it comes with very simple familiar interface.
Option available for getting brief previewing of Maildir emails before to start the conversion procedure.
Offers save attachment option separately so that the performer can save Maildir email attachment at desired location in the machine.
During the Maildir to Office 365 procedure, the tool keeps all email properties in an accurate manner.
Step to enter the Login details of Office 365 cloud account is mandatory to fill properly.
Different filtration is available for all the users as an advance benefits i.e. email filters, date filters and attachment filters.
This software is well-suited for all the latest and oldest Windows editions such as 7, 8, 8.1, 10 and others.
When you have complete the process, this tool provide Save Report option that can save complete process report on your desktop.
Free Download Edition
Maildir to Office 365 Converter comes with a trial edition facility that supports the user to testing the tool before to take a final action to buy. This demo edition is capable to import Maildir messages top Office 365 cloud account without any single charges. After using free trial, anyone can go to purchase its license edition for getting more benefits and a complete process.
Similar Post