Maildir to PDF Converter Tool to Convert Maildir File to PDF Format
Admin
| Email Conversion How to's Software Technology | 4
minutes read
| Last updated on February 8th, 2023,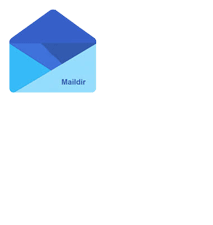 Do you want any perfect and secure guide to convert Maildir to PDF file format alongwith attachments & all other details? If yes, then don't worry just go with this amazing post that includes the complete and power-pack Maildir to PDF Converter Tool which is capable to perform the solution of how to convert Maildir file to PDF format without alteration of any file or folder. Before to directly opt the solution let's collect some of the benefits of PDF document format that attracts all the users. Keep reading…
Advance Benefits of PDF Documents
A PDF is one of the safe document format for finishing the printing related tasks.
This document format is easy to access at any time and even without having an internet connection.
Users can simply send the PDF files as an email attachment to any user for sharing the information for communication purpose.
Users can easily protect their PDF files with the user level and owner level passwords for security.
Additionally, the court allows to submit the digital proofs in PDF document format so this format also beneficial for forensics investigators.
Also, the PDF user can edit the information of the document according to the need.
This PDF format is the most beneficial document format for students, engineers, teachers, working professionals, and many more.
After getting the all the above points, I hope now you better understand why Maildir to PDF conversion is necessary. So, without taking anymore time let's continue the post.
FREE Maildir to PDF Converter Edition to Export Maildir File to PDF
Download and access free trial edition of the Maildir Converter program that allows to save, open and view the first 20 Maildir files to PDF format without any single charges.
Now, let's follow the simplest working guide that includes very easy steps to perform Maildir emails to PDF conversion.
Steps of Conversion:
Step 1 – First you can easily go to download Maildir to PDF Converter software on any Windows OS platform
Step 2 – Now, open the program and import the Maildir data files that you want to convert into PDF format. So, go to the Select File option from top menu.
Step 3 – In this Select File section, choose Select File or Select Folder button to add the files and then hit on the Next tab.
Step 4 – An instant click on the Next button will upload the all Maildir folder on the left pane of the software screen. Here you can also select the folder as per the requirement.
Step 5 – Collect the preview of any imported Maildir email by clicking on it. Also, opt to save attachment option under the preview section.
Step 6 – Press on the Export button that opens a new Window with so many options
Step 7 – From the new Window, first you have to choose PDF output option from the drop-down list of output formats
Step 8 – Now, go with Apply filters and rules for selective file conversion. This filter includes email filters, date filters and attachment filters.
Step 9 – In this step, you can go with PDF advance options that facilitate saving PDF options and Attachment options
Step 10 – Choose various naming convention options as per requirement and add the location to save output PDF files.
Step 11 – At last, directly click on the Export tab that begins the live Maildir to PDF conversion procedure on your screen.
Step 12 – Finally, the process is finished with the successful message on your screen i.e. Conversion is Done. Press OK and save the complete conversion report using the Save Report button.

Why to Choose Maildir File to PDF Tool?
The software offers n number of advance beneficial features that attract many users to convert Maildir to PDF format. Collect all benefits are mentioned below:
Bulk Conversion mode to perform unlimited Maildir emails to PDF conversion.
Preview feature for getting a brief of any Maildir email.
Selective folder conversion is possible for all interested users.
Save Attachment option for saving Maildir email attachments.
Offers various filters includes email filters, date filters, and attachment filters.
Different file naming options available as an additional facility.
Facilitates the advance of PDF for saving PDF files and its attachments.
Maintains all email properties and formatting.
Save report functionality for analyzing the complete conversion process.
Windows supports application that supports all Windows editions.
Last Lines
Using the above-mentioned Maildir to PDF Converter solution, anyone can convert their Maildir email messages to PDF document format without any trouble. And, if you need to collect more material or want to perform the solution, then free to try its demo edition that gives the opportunity for freely access the program. After using free demo edition, you can easily purchase the license edition for batch conversion.
Similar Post