Understanding How Data is Stored in MDaemon Users Folder as .mrk and .msg Files – Complete Overview
Admin
| Featured Technology | 5
minutes read
| Last updated on February 8th, 2023,
Emailing is the most effective and convenient mode of communication in today's time. Depending upon users requirements, many email applications are available in online market, each providing standard set of functions. When we look at the types of email clients, then they can be categorized as desktop based and browser based. Most of these email applications are FREE and useful for home and small business users. However, many big organizations need a centralized emailing platform to organize their employees' data more effectively. MDaemon is one such groupware application that consists of both Desktop based and server based services. It also provides Webmail (WorldClient) application, enabling users to access their emails from anywhere at any time. Now let's have a look at MDaemon folder structure and how data is stored in MDaemon users folder.
What is MDaemon ?
MDaemon is a Windows based groupware application, developed by Alt-N Technologies. It offers in-built spam filter included with Heuristic and Bayesian analysis, email encryption, mailing list, support for group data sharing (emails, contacts, calendars, tasks etc.). MDaemon supports IMAP, SMTP/MSA, POP, CalDAV protocols, Webmail (WorldClient) ActiveSync for Mobiles, and MDaemon Connector for Outlook for direct synchronization with MS Outlook.
MDaemon stores all its Users data at Default location of your computer system locally at : C: \ MDaemon \ Users \ example.com \
Where example.com is your company's domain name
Further opening of individual user folder of example.com will show a list of .msg files, AddrBook.mrk, HIWATER.mrk and IMAP.mrk files.
Know More about .msg and .mrk Files of MDaemon?
MSG is the message file containing complete data of an individual message, including headers, body, attachments etc., all in plain text. MRK files (IMAP.mrk, HIWATER.mrk) on the other hand, contains complete user account's details, IMAP mailing access details, subscribed IMAP folders, shared folders access, email rulings, last accessed data etc. Both MSG and MRK files are crucial as they hold important information associated with individual MDaemon user account.
MDaemon also provides Webmail services (WorldClient) to help users access their mail folders, contacts, from anywhere at any time. They only need internet connection to access their WorldClient data from their location. The webmail service saves its entire data, i.e. emails, contacts, calendars, notes etc. in individual .mrk files, each stored in their respective parent IMAP folder. Each MDaemon user account contains these IMAP folders, all saved in a single root folder (named as User.Name, e.g. User account named John Smith will be having its root folder as john.smith).
When you open these individual IMAP folders, it shows a list of files. For example, when you open contacts.IMAP folder, it shows AddrBook.mrk, HIWATER.mrk, Imap.mrk and *.msg files, where each .msg file corresponds to each contact that a user account has in its database. E.g., a user account containing 35 contacts will show 35 individual .msg files.
Likewise, all other IMAP folders will contain their particular data files, as follows :
Calendars.IMAP folder – Calendars.mrk, HIWATER.mrk, Imap.mrk and *.msg files
Notes.IMAP folder – noteslist.mrk, HIWATER.mrk, Imap.mrk and *.msg files
Tasks.IMAP folder – tasklist.mrk, HIWATER.mrk, Imap.mrk and *.msg files
As you can see that every IMAP folder has its individual HIWATER.mrk file, containing all the relevant information of the particular parent IMAP folder. Now let's find out what these AddrBook.mrk, calendars.mrk, tasklist.mrk files are, and how they are useful for WorldClient.
WorldClient recognizes only .mrk files and reads its data from these files only. E.g., the application will extract all contacts data from Addrbook.mrk file, calendar items from calendars.mrk file, tasks items from tasklist.mrk files etc. now you must be thinking that if WorldClient reads its data from .mrk files, then for what is the purpose of these *.msg files that are saved in the parent IMAP folders.
The .msg files are used by MS Outlook to read MDaemon user account data, configured via MDaemon Connector for Outlook plug-in.
Now Lets Find Out the Co-relation between these .mrk and .msg Files
Once, you configure your MDaemon user account data in Outlook via its plug-in named MDaemon Connector for Outlook, then it means that you can synchronize your WorldClient user account with MS Outlook. Now lets assume that your Addrbook.mrk file gets deleted accidently? What will happen next. On next synchronization with Outlook, all your .msg files will also get automatically deleted.
Note : Whenever, Addrbook.mrk file is deleted from MDaemon, then it automatically creates a new Addrbook.mrk file, but with no data in it.
Once all the contacts are restored in Addrbook.mrk file, they will appear between the <contact></contacts> tags, when viewed in Notepad application. But you will see that there are no .msg files in the parent IMAP folder.
But, once you open MS Outlook and as it synchronizes again with WorldClient, then based on the data saved in Addrbook.mrk, all the contacts will also get restored in Outlook. And once these contacts are opened in Outlook, their respective .msg files will also get recreated, in the parent Contacts.IMAP folder, at its store location. (As you can see, all the contacts are automatically created at the store location – user.name >> contacts.IMAP >> *.msg and AddrBook.mrk)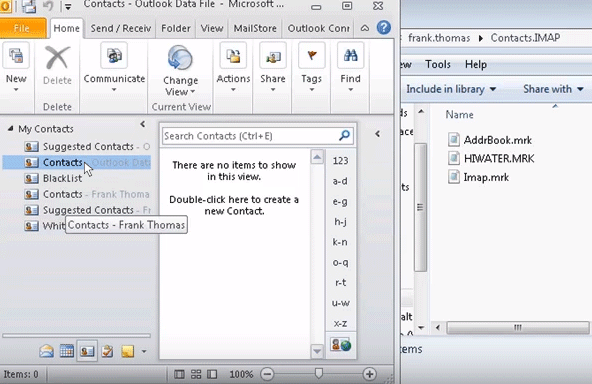 Similarly, all other MDaemon items like calendars, tasks, notes etc., have their corresponding .mrk files for WorlClient to read the data from and *.msg files for Outlook to read MDaemon data, when accessed via MDaemon Connector for Outlook.
Looking for a Permanent Solution to Save MDaemon Mailboxes Locally?
Till now, you must have understood that MDaemon Connector for Outlook is required to access, view and synchronize MDaemon user database in Outlook. Since the entire concept is based on synchronization between two applications, then changes done at MDaemon (WorldClient) application will automatically get reflected in MS Outlook too. So, the point is that you can only view and access MDaemon Server data in Outlook but you have no control over this data.
Consider a situation, where your MDaemon data accidently get deleted or crashed due to some unfortunate reasons, then the entire data will be lost from Outlook too, as everything is going on synchronization basis and nothing is downloaded on your local system. What will you do now. The time now is to backup your MDaemon mailboxes and save them to your local system, so as to avoid data loss from such unfortunate incidents. Having a local copy of your MDaemon data will help you in your business continuity and avoid business losses, efficiently and effectively.