How to Configure Outlook PST in Thunderbird?
Ritu Roy
| Email Conversion File Repair Google Updates How to's Software Technology | 4
minutes read
| Last updated on February 8th, 2023,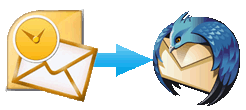 Nowadays, with the growing popularity of online market among all users, the way of cross-communication is online. Even though there are many email client applications that makes it easy for users to transfer or share important data across the world. It takes a wide range of functionalities for the accessed of data. Moreover, as per users demand, sometimes they prefer to switch from one platform to another platform. One of the most arising queries is to how to configure Outlook PST in Thunderbird. It is a challenging task for users, hence, it seems to be not easy to perform. However, it will not be tough from now onwards as in upcoming section of this blog; we will learn an incredible technique to setup Outlook PST file in Thunderbird.
"Recommend me a perfect and easy method to configure Outlook PST mail in Mozilla Thunderbird email client. I am the new user and don't know technology in deep. So suggest me easiest method setup Outlook emails in Thunderbird."
Overview about MS Outlook and Mozilla Thunderbird
MS Outlook is a part of the Microsoft office Suite developed by Microsoft. The main use of the Microsoft Outlook is email management. Moreover, it offers task management, contacts, calendars, note, journals, etc. In most of the organizations, it works in synchronization with the Microsoft Exchange Server. However, it can also be used as a stand-alone application.
On the other hand, Mozilla Thunderbird is a free, cross-platform developed by Mozilla. It acts as an email, newsgroup, and chat client. With, this you can easily manage various email, newsgroup, and news feed accounts, etc. In additional, it offers features like quick search, save search folder, advanced message filtering, etc.
Reasons for Switching from Outlook Data Folder to Thunderbird
There are many reasons why will any user wants to change Outlook emails to Thunderbird. Mozilla Thunderbird as an open source app for Personal Information Manager and it is easy to install Thunderbird on the machine than to MS Outlook. Mozilla Thunderbird is a cross-platform desktop application which can easily opened on Windows, Mac, Linux OS. On the other hand, MS Outlook is not cross platform and is a paid service. These are the main causes for switching from Outlook to Thunderbird.
Steps to Configure Outlook Mail in Mozilla Thunderbird Using IMAP
The following tutorial will guide you on configuring your Microsoft Outlook mail in Mozilla Thunderbird email client.
Download and Install Mozilla Thunderbird application
Go to File Menu>>Click on Tools>>Select Account Settings.
Next Click on Account Actions
Then choose Add Mail Account from the menu
Enter your name (name can be what you want to access in the from: section) under Your Name
On the Web email address enter you Outlook Mail (it should end in @outlook.com, live.com or hotmail.com) under Email Address
Type the password for your Outlook.com under Password
In situation of two-step confirmation for your Outlook Mail on the Web account, create an application password specifically for Mozilla Thunderbird and use this. Then Click Continue
After that check if Mozilla Thunderbird has applied the below settings:
IMAP (remote folders)
Incoming: IMAP, imap-mail.outlook.com, SSL
Outgoing: SMTP, smpt-mail.outlook.com, STARTLES
In case, Mozilla Thunderbird shows different or no automatic settings:-
Click on Manual Configuration
Under Incoming:-
Ensure IMAP is selected
Type "imap-mail.outlook.com" for Server
Choose "993" as the Port
Check if SSL/TLS is selected for SSL
Choose Normal password for Authentication.
Under Outgoing
Type "smtp-mail.outlook.com" for Server
Choose "587" as the Port.
Check STARTTLS is selected for SSL
Now make sure Normal password is selected for Authentication.
Click Done
Next click on OK.
There are few limitations in this method to configure Outlook mail in Mozilla Thunderbird. With this method, it is chance some of the mails get lost. This method is lengthy and time-consuming. Moreover, the solution is quite confusing for a novice users. In a way, if Outlook emails are encrypted then it may fail to open Outlook mail from Thunderbird. But if you want to configure Outlook Mail in Mozilla Thunderbird., you can go for a third party tool.
Professional Method to Transfer Outlook Mail to Thunderbird
As there are drawbacks of the above method, there is an expert and reliable solution which can easily convert Outlook PST Mail to Thunderbird in short time without any problem. With third party software, one can easily move any number of files size without any changes and data loss. The software comes with lots of benefits that can be easily utilized by the novice users and technical uses.
Final Words
The above blog post discussed about the reasons and solution to setup or configure Outlook PST in Thunderbird. I have also discussed a professional solution like open Outlook Mail in Thunderbird that can easily convert all data from Outlook to Thunderbird.
Similar Post