How to Fix Corrupt PST File Outlook 2016, 2019, 2013, 2010 & 2007
Admin
| data recovery | 5
minutes read
| Last updated on February 8th, 2023,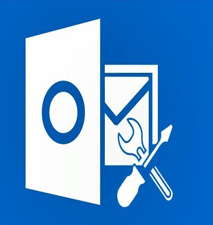 Focus on this writes up to sort out fix corrupted Outlook PST file issues that can simply help about how to fix corrupt PST file Outlook 2016, 2019 & its other editions.
If you are using Outlook 2016, 2019 & other editions on Windows system, then we are sure that you would have been good experience with its attractive features (color full theme & ribbon interface, advanced options, rotation support for the tablet) of Office 2016 for Windows, which is provided the same type of upgrade that was provided to Outlook 2013 when launched. Moreover, this Outlook edition being targeted at professionals & IT developers' needs Office 365 subscription.
As well, containing the market aspect of the package aside, in this blog we will be explaining on the technical facet of the provided edition – how do I repair a corrupted PST file in Outlook 2016/2019. Explore it on to get all about it and know that how you can sort out this issue.
What May the Cause for Corruption of PST file in Outlook 2016 / 2019
Although, every tool upgraded is supposed to create an app's utility and completely try to make user experience better, but some errors are occurred from one edition to other. When errors are risen to Outlook 2016 or 2019 PST files, the fact that it may lead to file corruption and cause –
New PST File Generation – when upgrading from a previous Outlook edition to new edition, PST file may be generated newly and so thereby probability of older PST file corruption.
Large PST File – using Microsoft Outlook regularly, it would ultimately increase the PST file size. When Outlook data file are increase in a large size then there may be possibility to corrupt PST file.
File Contribution on multiple networks – previously, we choose for network to share PST file, but we are not careful about the fact that sharing Outlook PST file over a network, it would be probability that PST file may corrupt. If you are user which share PST file over a network then it could lead to its corruption.
System Concern – frequently, it has been seen that bad sectors of your hard disk might contribute to the PST file corruptions. These bad sectors can make your PST files inaccessible and so there may chance of data loss which would be irretrievable.
Use of unreliable tools – It is fact that large PST file size is also a reason for corruption. To maintain PST error free, trim the PST file in small files and it is necessary but when we try to split large PST file by unpredictable tools, there may be chance for data loss.
Virus Attack – in digital world, it is conspicuous that users download & install the tools. No doubt that your web services make required products available for you along with multiple viruses. These virus infections affect your Outlook data file and may corrupt them. When it got corrupted then become inaccessible.
If your Outlook PST files become corrupt from any provided above causes, then users will be expelled from using your Outlook data. Therefore, to resolve how do I repair a corrupted PST file in outlook 2016 / 2019 issue, users will have to repair Outlook 2016 / 2019 & other edition PST files by manual method or third party PST Recovery Tool.
How to Fix Corrupt PST file Outlook 2016, 2019, 2013, 2010 & 2007 data
It may appear cataclysmic, but Outlook PST file corruption is general reason that can make even the largest of organizations. If it occurs, subsequent inaccessibility of Outlook data file can lead to loss of money & time. Therefore, exactly recovering a corrupt PST file as rapidly as possible will be required.
Fix Corrupted Outlook PST file manually
A corrupted PST can be repaired by using the Outlook inbuilt ScanPST.exe utility. Get the utility, on your system and run it on the corrupted PST to fix the minor issues. Follow the given simple steps –
Close Outlook and find the ScanPST.exe on your computer which is available on <disk drive>:\Program Files\Microsoft Office\<your office version>) (some time, it may vary according to your system settings.) Then double click on the SCANPST.exe
Click on Browse to find the PST file, which requires to fix or type the exact location of your PST file which you want to scan. If you have no idea about the PST file location then follow it –
Open your Outlook Click on File Menu >> Info >> Account Settings >> Data Files
Then note the data files path and file name of your PST file.
Click on OK button and close your Outlook.
Click on Repair button to start the fixing issue.
As process completes, open Outlook & generate new PST in your account.
Drag the repaired items to new PST.
The method is simple and easy to go with it. Moreover, it has some limitations, which are –
Limitations of SCANPST.exe Tool
Risk of Data loss – the inbox repair (scanpst.exe) tool cannot fix Outlook each issue that is detected in corrupt PST's. Generally, Outlook users face "run time error, corrupt header issue, etc." which are not repaired by the manual Inbox Repair tool. Some cases, there may be chance that data may not repaired and even loss your data. Besides, if mails are permanently corrupted or deleted then they are outside repair.
Technically Expert – To handle the SCANPST.exe tool, users should have technical knowledge about Outlook and this tool properly. Users must have information about the location of PST file. After repairing data items, you required to manually generate new PST and drag each repaired item particularly to new PST.
How to fix Corrupted Outlook PST File Alternatively
To overcome the limitations, recommended solution is that go with Alternative PST Recovery Tool that can recover deleted Outlook PST file or repair completely corrupted PST file without any issue. The software is rapid solution and firstly scans all corrupted / deleted PST files on your system and repair them successfully, after that provide a complete preview of repaired data and export to new PST, EML, HTML, MSG& Office 365. You can try the effective utility that can resolve all problems about how to fix corrupt PST file Outlook 2016, 2019, 2013, 2010, 2007 & 2003. The tool is powerful utility that can also repair all Outlook PST file without alteration of data.
Still, have doubt or confusion, then go with free demo that is capable to repair & preview all recovered data that save 25 items (emails, contacts, journals, notes, task, etc.) of Outlook PST file without any cost. Therefore, you can try any method to solve your issue regarding Outlook data file repairing process.