How to Connect Thunderbird to Exchange Server/Hosted Exchange Server On-Premises?
Pooja Goswami
| Cloud Backup Email Conversion email migration How to's Software Technology thunderbird to exchange | 5
minutes read
| Last updated on February 8th, 2023,
Thunderbird is the most famous open source email client used by major portion of the world's population. Besides its popularity many users start switching Thunderbird profile into Exchange Server 2019, 2016, 2013, 2010, 2007, 2003 etc. Manually, the conversion of Thunderbird to Exchange 2013 and other edition become very complicated and tricky. Also one must have specialisation in technical field to perform migration of Thunderbird to hosted exchange server.
Recently we received many queries related to Thunderbird to Exchange 2013 migration so we decide to write a blog on this particular conversion. After reading this blog none of your query remain unsolved and we will introduce a complete time saver solution to solve your problem.
How to Migrate Mozilla Thunderbird emails to Exchange Server?
To solve your query download advance all-in-one Thunderbird Converter – most reliable and trustworthy solution to export emails of Mozilla Thunderbird to Exchange 2013 and all its successor version. The advance utility just require login credential of Microsoft Exchange server to perform the conversion. You can download the advance utility by clicking on below Download button.
Download and run Mozilla Thunderbird to Exchange Migration Tool in your system.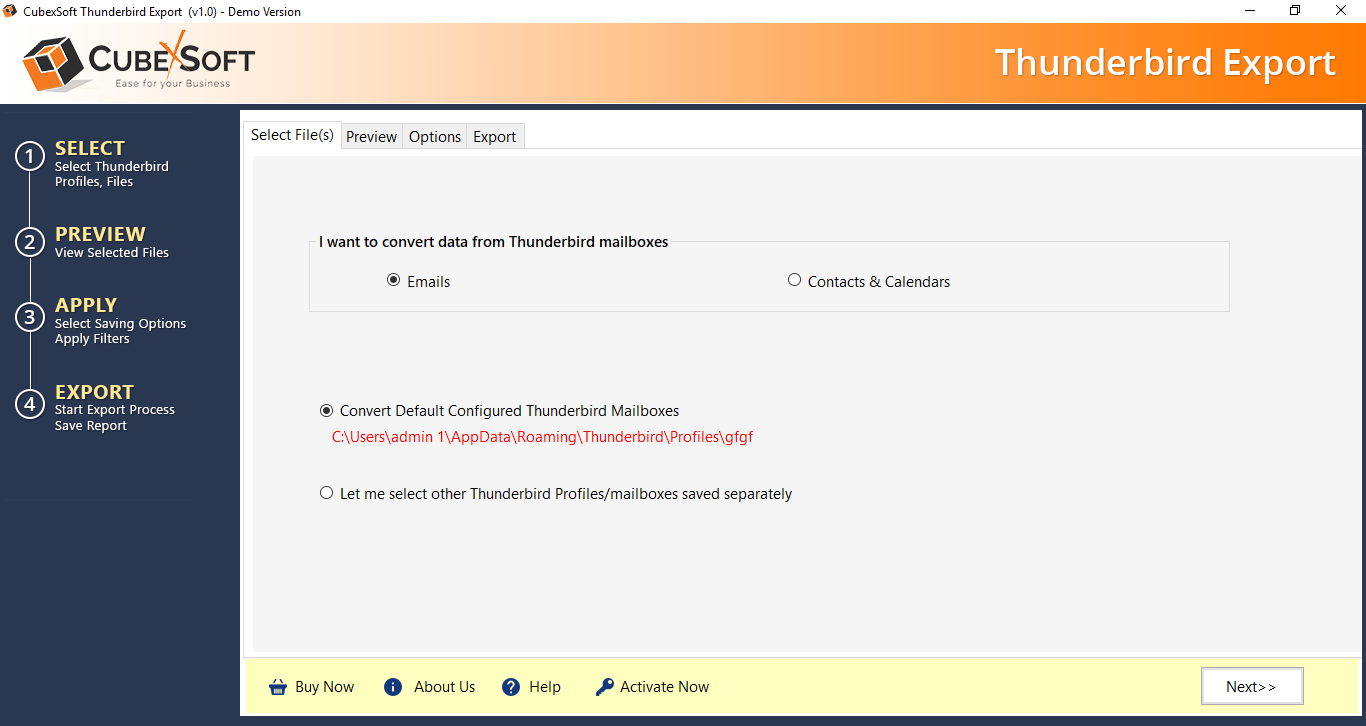 Next click on File mode or Folder mode to load your default Thunderbird emails into the software.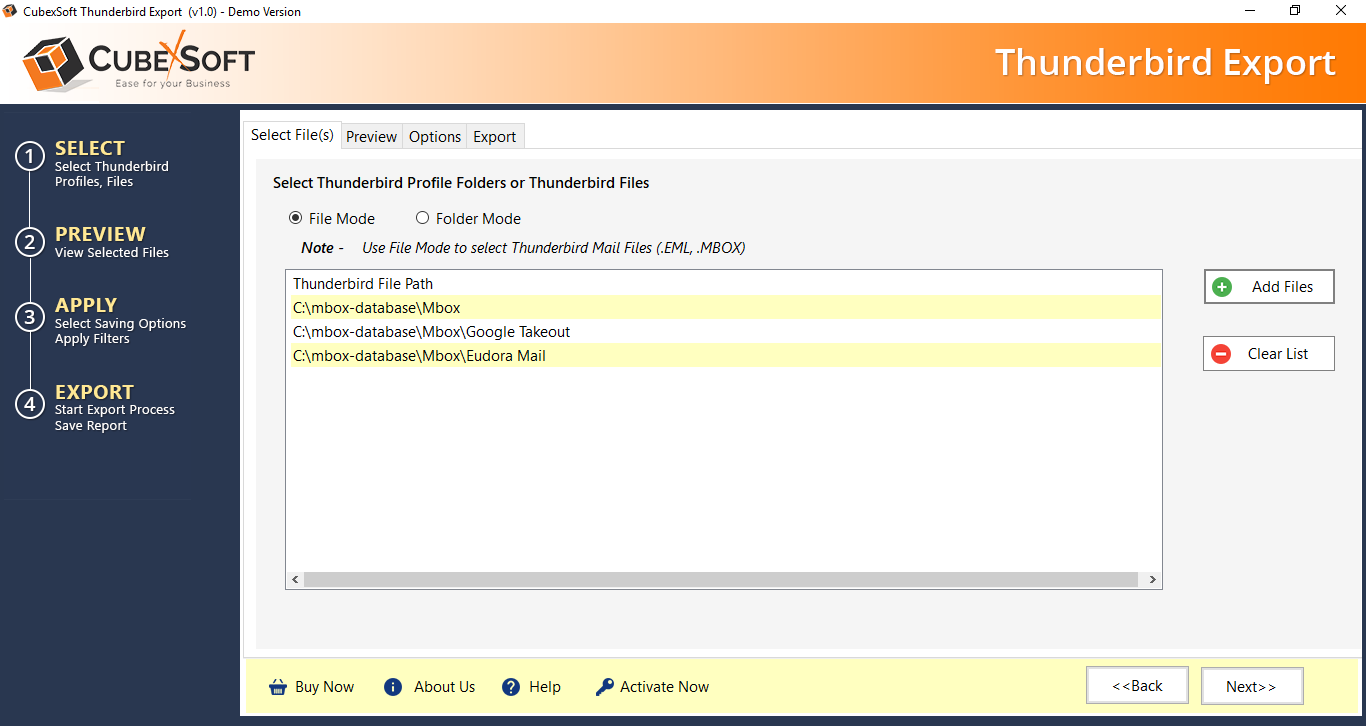 After that the software start loading Thunderbird mailbox and start displaying preview of all the selected emails.
Choose Exchange Server in the Select Output type option to migrate emails from Thunderbird to Exchange then click on Next Button.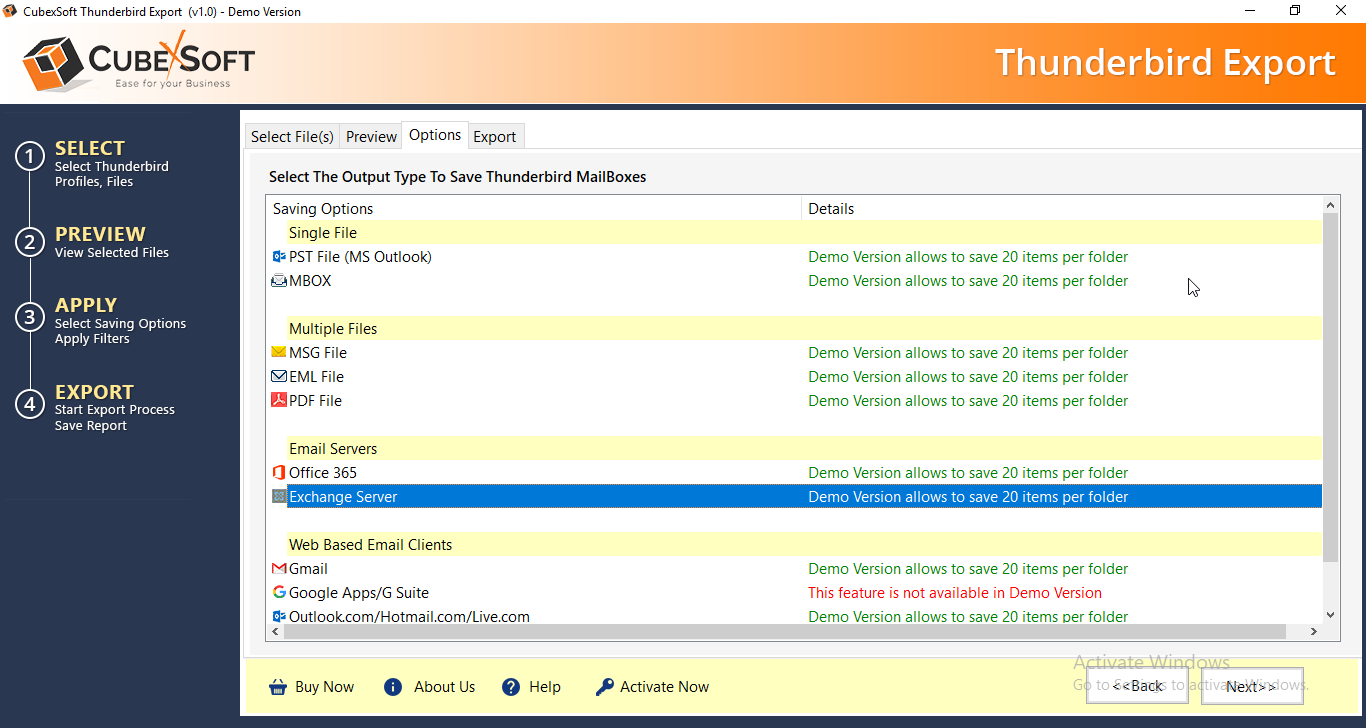 Further press Set Filters option to apply all the advance filter according to your choice.
Date Filter: apply date filter for migrating emails of certain date range.
To/From Filter: Apply this filter for exporting emails of specific Receiver and Sender address.
Subject: Apply this filter for transferring emails of particular words and phrases.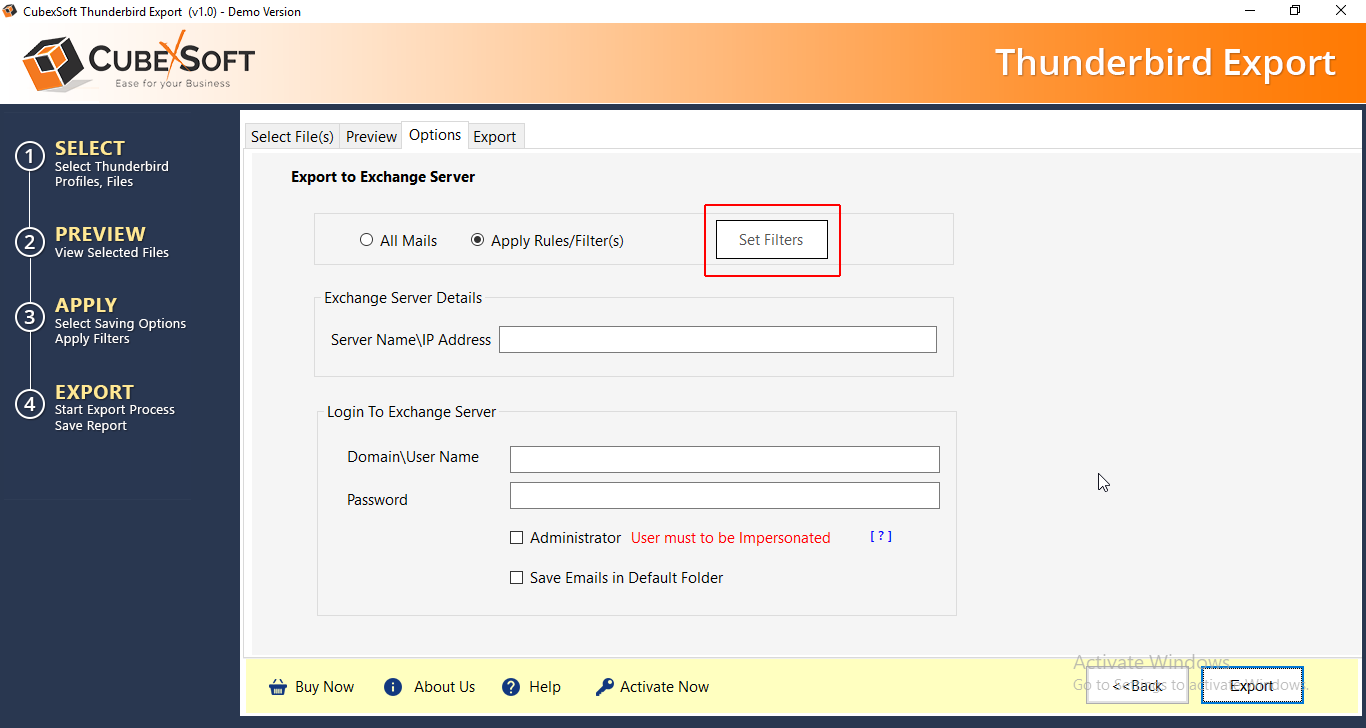 In the next step choose the option according to your requirement.
With Administrator: If you choose with administrator option then you have to fill login details of Exchange Server admin account only.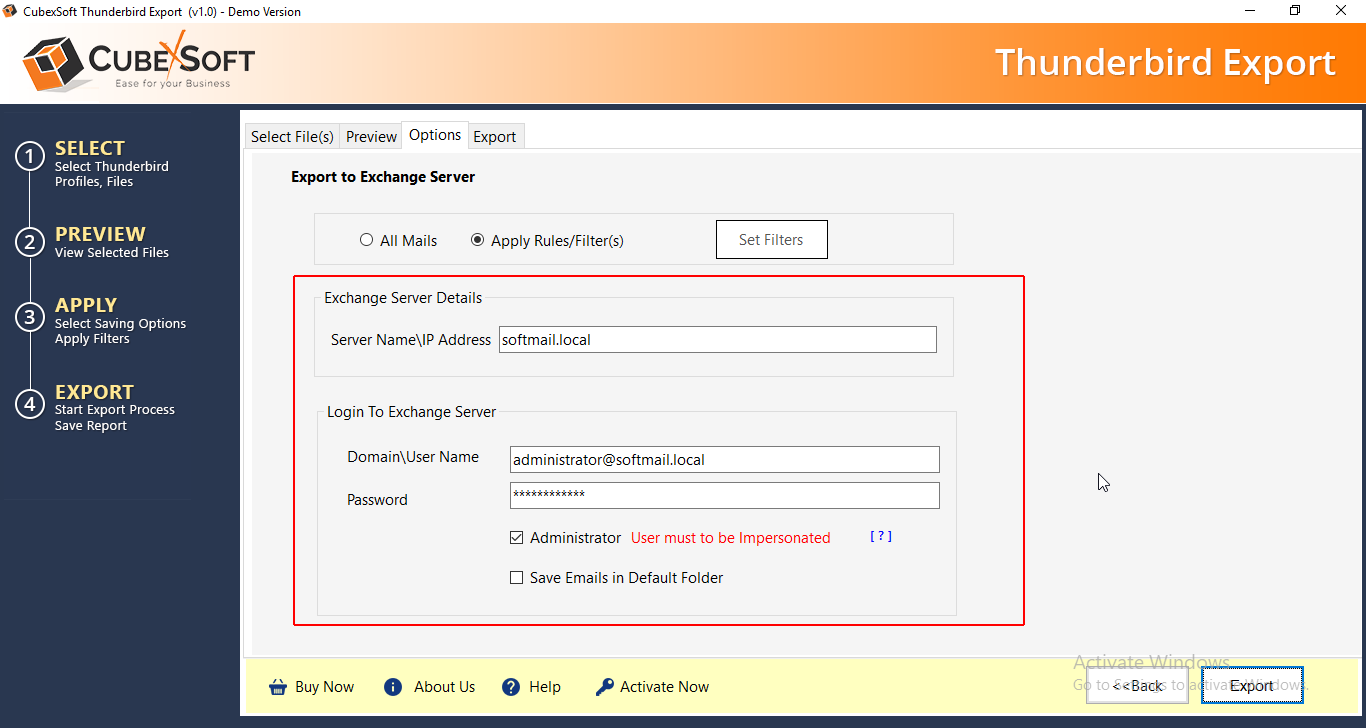 Without Administrator: If you choose without administrator option then you have to fill login details of both admin account and each user account separately.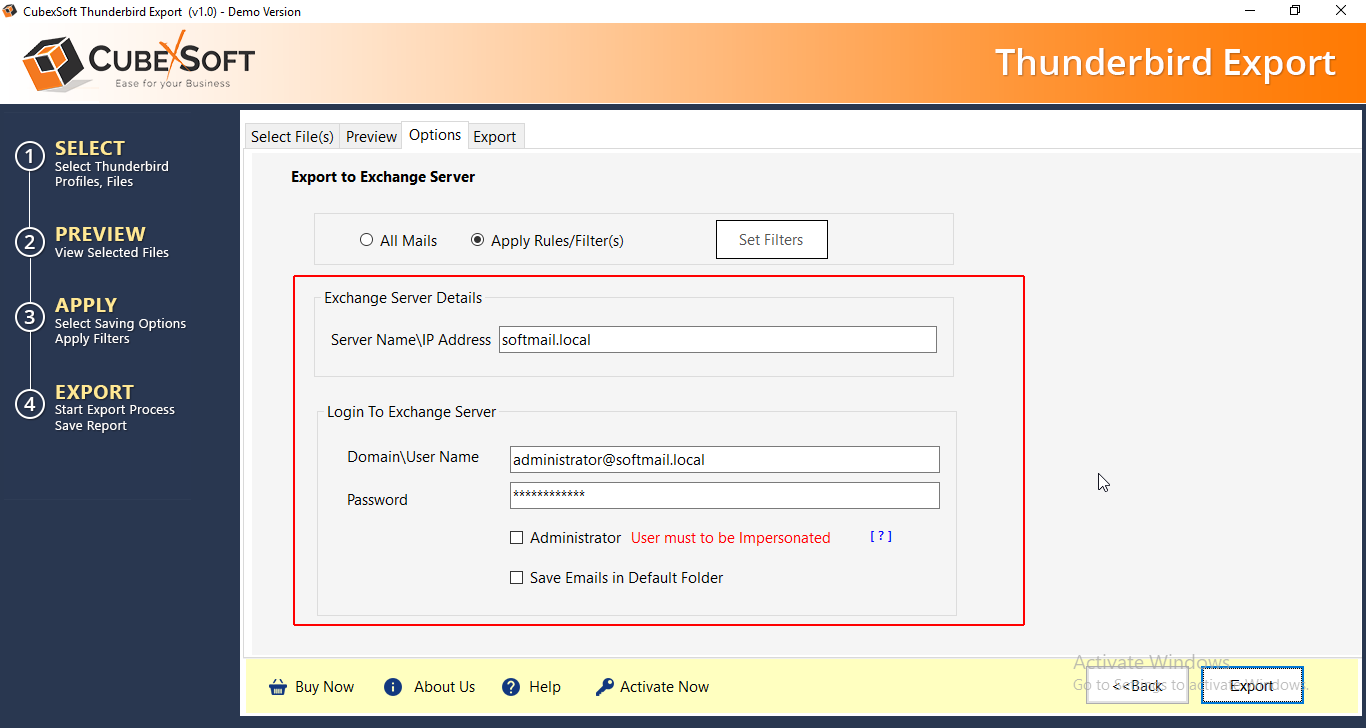 Now enter login details of Exchange Server admin account and then hit Export button which is available at the leftward corner of the software.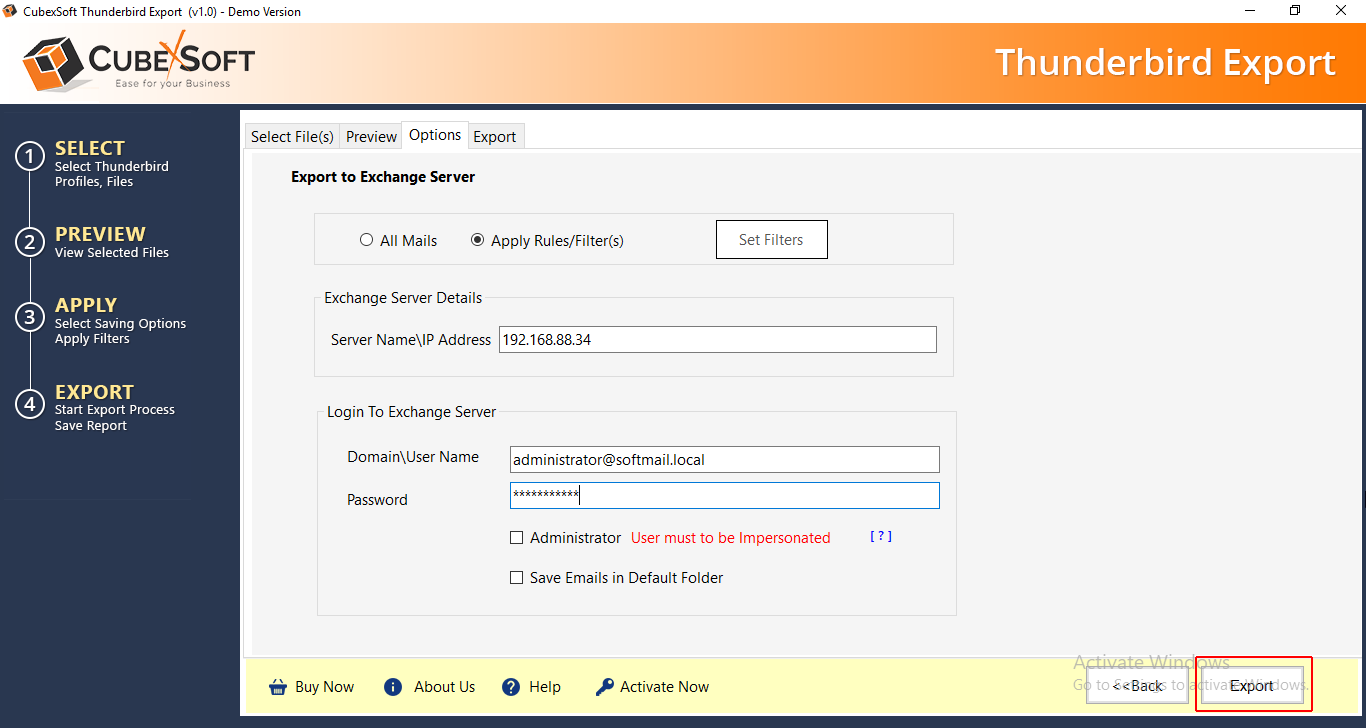 Next the software start the migration process and display live conversion status.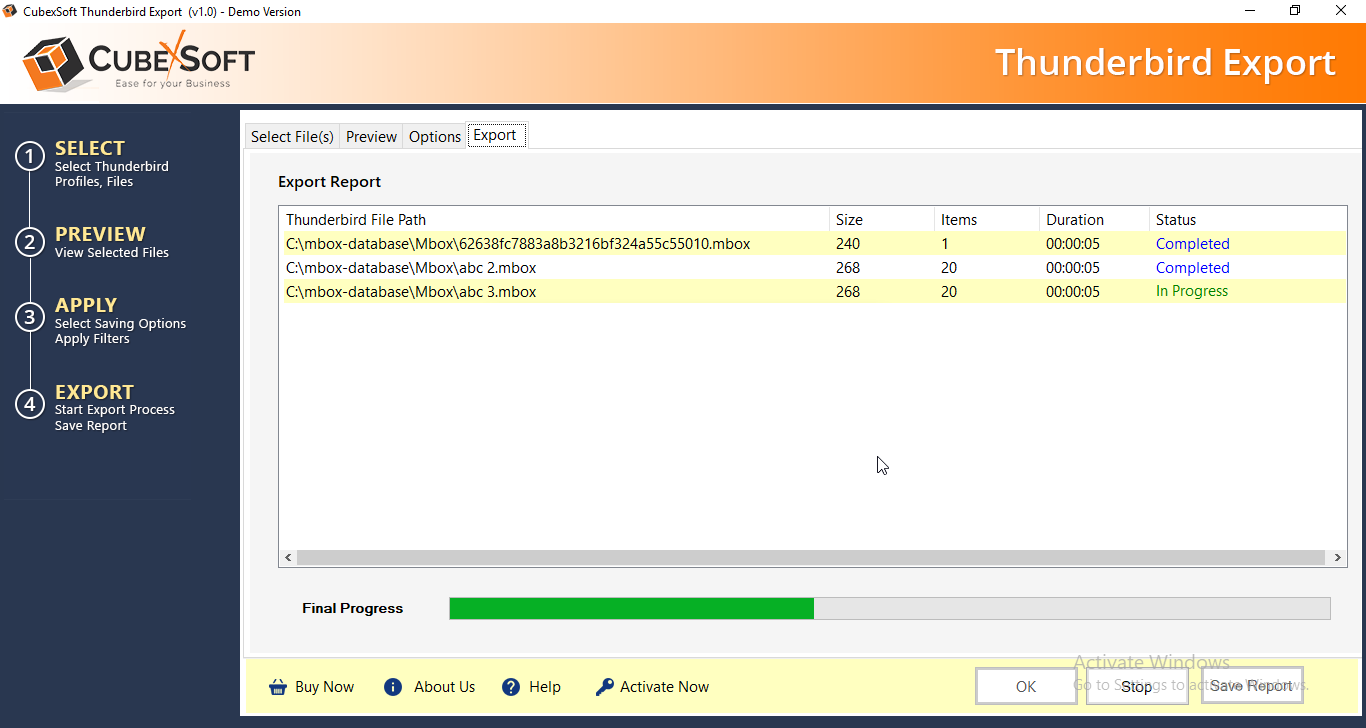 The conversion will be completed in few minutes afterwards a message box open with a message of Successful conversion. Press Ok button to move forward.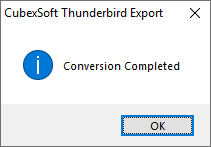 In the end of process, an excel sheet opens with complete backup summary. If you want to save the backup summary in CSV format go to File>> then Save As option.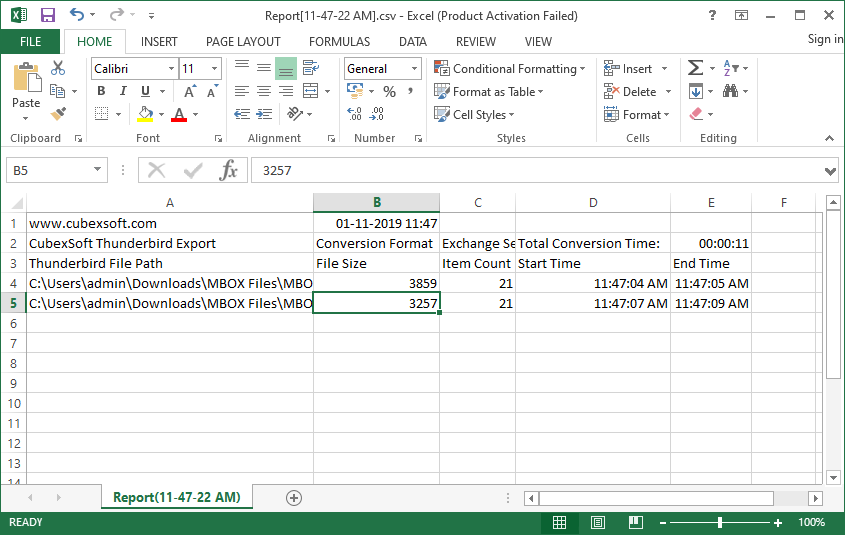 Highlighted Features of Thunderbird to Exchange Migration Tool
Being an automatic solution, Thunderbird to Exchange Migration tool ask for login credential of Exchange Server only and perform the migration in just few minutes.
The software is capable to load all emails directly from default Thunderbird profile automatically from the default storage location.
Thunderbird Converter migrate all database from Thunderbird profile i.e. Contacts, calendar, task. Journal, images, briefcases etc. to Exchange Server.
While performing Thunderbird to Exchange Migration the software maintains Meta Formatting and properties of emails such as Header (bcc, cc, to, from ), images, hyperlink, Email formatting, font size, style, Email content, time stamps etc.
It enable user to migrate all emails from Thunderbird to hosted exchange server along with attachments of all type.
The software supports Thunderbird to Exchange conversion in all Exchange servers such as 2019, 2016, 2013, 2010, 2007, 2003 etc.
During Thunderbird to exchange 2016 the software preserve folder structure and hierarchy. User does not see any difference in folder layout and can manage the database easily.
Thunderbird to Exchange Migration Tool has strong and friendly graphical interface which makes the conversion process so easy. User from any background i.e. technical or non-technical can operate it easily for Thunderbird to hosted exchange server migration.
It also offer preview mode through which user can eliminate unnecessary conversion of Thunderbird emails into Exchange Server. You can select/deselect the files in this particular step.
Some Users Related Queries
Does the software save all my attachments along with Thunderbird emails?
Yes, the software is well-capable of saving attachments of all type with their respective Thunderbird emails.
Can I use the toolkit on my Windows 10 system?
Yes, Thunderbird to Exchange Server is accessible on all Windows operating system of 32 bit and 64 bit.
I want to backup my customized made Thunderbird Folders into Exchange. Is it possible with this professional tool?
Yes you can backup all your Thunderbird customized folder into Exchange. The software is designed in such a way that it can migrate all default folders, SBD folders and customized folders to Exchange Server.
Does configuration of any third application needed to import emails of Thunderbird to Exchange 2016?
No, the software is an advance utility which doesn't require configuration of any other application. It works solemnly to import Thunderbird emails to Microsoft Exchange.
Is my mail formatting and properties also changes with file format when my Mozilla Thunderbird database saved in Exchange?
No, the software maintains all the properties and Meta formatting of emails while performing thunderbird to exchange migration.
Thunderbird to Exchange Migration Tool – Client Testimonial
Ich bin ein großer Fan der Cubexsoft-Gruppe, da all ihre Software perfekt ist und ein garantiertes Ergebnis liefert. Kürzlich habe ich sie gebeten, mir ein Tool vorzuschlagen, mit dem sich die Migration von Thunderbird zu Exchange einfach gestalten lässt, und sie empfehlen mir das Tool Thunderbird zu Exchange Server. Jetzt kann ich sagen, dass Thunderbird zu Exchange Migration Tool das beste Dienstprogramm ist.
-Ralf Mahler, Germany
Thanks CubeXsoft for helping me out. I was working in an organisation where I used to save my database in Mozilla Thunderbird. But recently I switch my job and here all the employees communicate through Exchange Server. So I also have to switch my email client to Exchange 2013. I use Thunderbird to Exchange Converter for this purpose and I am amazed with the result. All my database of Thunderbird is successfully migrated to Exchange 2013 keeping all my file intact. Now I recommend all the user to must try the software once.
-Abigail, US
Thunderbird to Exchange Migration Tool es la mejor herramienta que he usado. Quiero hacer una presentación en mi empresa y todos mis archivos relacionados con la presentación se guardan en Thunderbird. No quiero abrir mi administrador de información personal en las instalaciones de mi oficina, así que quiero migrar esos archivos importantes a Exchange 2016. Uno de mis colegas me sugirió esta herramienta y cree que Thunderbird to Exchange Converter resuelve mis problemas en minutos.
-Edith Sorokina, spain
Conclusion
Thunderbird to Exchange server is the best advance utility whose demo edition is also available for user convenience and understanding. First try the demo edition to understand its working completely then purchase its license version. The demo edition of Thunderbird to Exchange Migration Tool migrate up to 20 items from each Thunderbird folders to Exchange Server for free of Cost.