Backing Up Thunderbird Profile in Hard Drive – Is it Profitable?
Pooja Goswami
| Email Conversion Software Technology thunderbird to pdf | 5
minutes read
| Last updated on February 8th, 2023,
Mozilla Thunderbird is one of the most prominent email client in the world. After the launch, Thunderbird get more than 5 lakh download within a week. You can conclude its popularity by later given data. Despite having such a great market, Mozilla announced to suspend further manufacturing of Thunderbird. The decision was taken by Mozilla Foundation because efforts to extend its features results fruitless. The decision has adverse impact on Thunderbird users as they have to bear very high maintenance cost to update latest features.
In the recent research, we found that many Mozilla Thunderbird users are searching for a solution to know how to backup Thunderbird email files as Hard Drive. When we talk about hard drive formats, PDF came out as the best file format. In this informative content, you will get to know about the methods to save Thunderbird emails in PDF. Keep reading the blog to know all facts related to Thunderbird backup to PDF.
Benefits of Backing up Thunderbird Email Files as PDF
Well, there are so many benefits of backing up Thunderbird profile into PDF. We all know how important the data for the users and they are willing to do anything to keep it secure. Following are some of the benefits of taking data backup:
You can take backup of your Thunderbird data to access them in future. Sometimes a bulk of emails accumulated in your account and you are unable to keep regular check on them. So it is beneficial to keep backup of them in hard drive.
There is possibility that because of hardware failure or malware dysfunction, you can lose some of your data. After losing, it is hard to get back lost files so users need to take backup of entire Thunderbird profile to eliminate such adverse circumstances in future.
When the data is saved in your hardware, it is easy to access them anytime and anywhere. Therefore for quick accessibility keep backup of Thunderbird email files in PDF.
Sometimes users need to print some important information from emails. It is hard to print information when they are in email form. So it is better to transform the information into PDF and then took print of them.
Method to Take Backup of Thunderbird Email Files in PDF
Go through below mentioned steps to backup Thunderbird files in PDF. The steps will help you in converting Thunderbird emails to PDF.
Step 1: Install Add-on ImportExportTool
In the first step, you have to download a free add-on from the official websites of Thunderbird i.e. ImportExportTools. When the add-on is successfully downloaded, restart Thunderbird.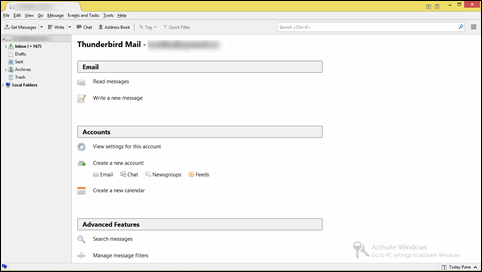 2. Now go to menu bar and left click on Tools. In the drop-down menu choose Add-ons.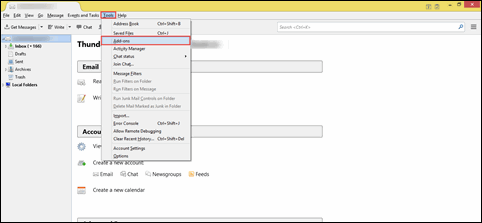 Note: Sometimes menu bar is not visible. In this case press Alt tab from your keyboard to backup Thunderbird email in PDF.
3. Add on Manger wizard open in new tab. Move your curser to the setting icon and press it. Select "Install Add-on from File" option.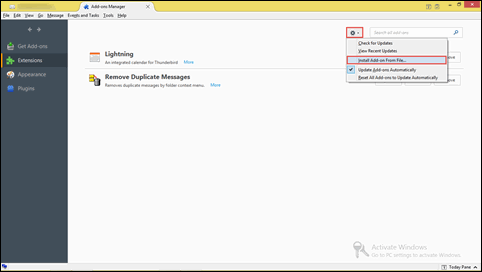 4. Go to the Downloads folder in your PC and select add-on file you have downloaded in Step (1). Hit on Open button.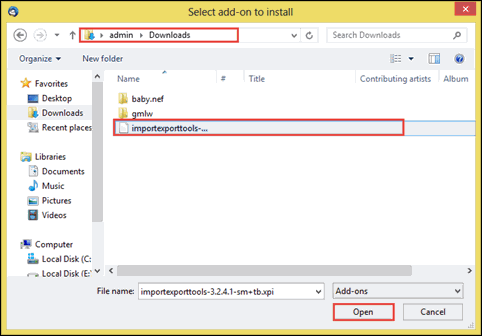 5. The Software Installation Wizard start appearing on your screen, hit Install Now button.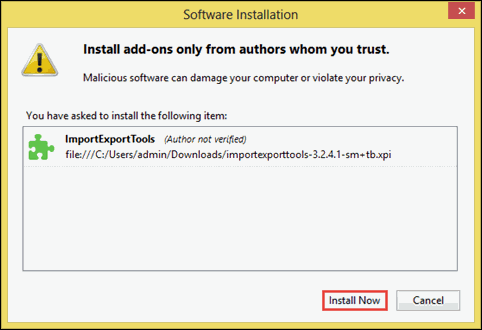 6. After that click on Restart Now button for properly installing Add-on in Thunderbird email client.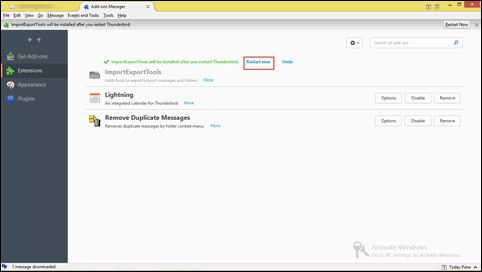 Step 2: Backup Thunderbird Email Files as PDF
Now go to mailbox panel of Thunderbird and select all mails which you want to backup in PDF. Right click on selected email files.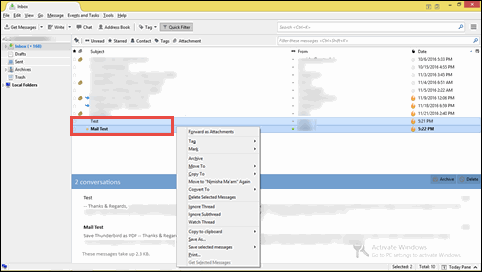 2. A drop down menu open. Choose Save Selected Message>> PDF format to backup multiple Thunderbird email in PDF.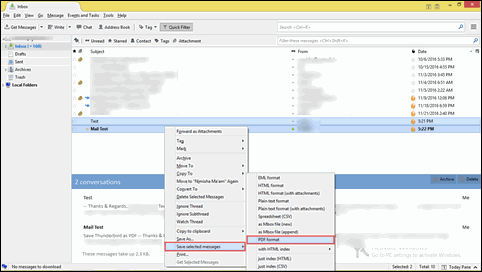 3. A warning Dialogue box open in which you have to click Ok then again hit on Ok button. Choose desirable location to save converted PDF file and then press Select Folder.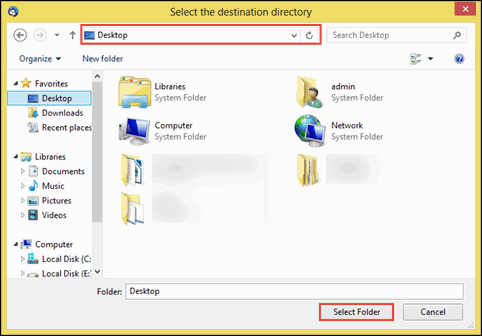 4. Wait for some time and then close Thunderbird application from your machine. You have successfully saved all selected Thunderbird mails in PDF.
Backup Thunderbird Emails to PDF Automatically
Till now we have discussed about the manual way to backup Thunderbird email in PDF. However the manual method is only reliable for moving Thunderbird emails from one or two folders. When it comes to bulk Thunderbird emails to PDF backup, manual method fails. For moving large number of files, users have to repeat the process again and again. The method also consumes lots of precious time. Therefore it is recommended to use professional solution instead of manual method to backup Thunderbird email files as hard drive.
CubexSoft Thunderbird to PDF Converter is third party software designed by the team of experts for quick and secure Thunderbird mail backup as PDF. The software comes with multiple advance features. Some of the highlighted features are given below. Take a glance of below given bulleted points:
Support batch backup of Thunderbird email files into PDF at once.
Accessible to all Windows versions including Windows 10.
Provide advance PDF saving option.
Offer multiple file naming combination to save PDF file in hard-drive.
Save all type of attachments in precise form.
Keep all Meta formatting and hierarchy of folder intact.
Some Frequently Asked Questions
Is the software support my Windows 10?
Yes, you can use the software on any Windows version including the new on Windows 10.
Can I save attachments in separate folder?
Yes, the software allow you to save attachments in multiple formats. You can save attachments in separate folder without any damage.
I have huge amount of data in my Thunderbird account and I want to take backup of all data in PDF. Can I move all the data at once to PDF?
Yes, you can convert multiple Thunderbird file in PDF in single time processing.
Testimonials
I don't always clop, but when I do, it's because of the smart software CubexSoft provide me. It really saves my time and effort. The multi-tasking software is exactly what our business has been lacking. It has completely surpassed our expectations.

Great job, I will definitely be ordering again! The software is worth every penny I spend on it. It helps me in backing up bulk of database from my Thunderbird account to PDF. I would recommend this software to everyone in my contact.
Final Verdict
We hope our motive of helping users to backup Thunderbird email files as hard drive is successfully completed with the end of the blog. Now users can easily keep backup of their important files in portable document format without any difficulty. You can either go for manual method or professional solution according to your need and preference. Read the blog with utmost focus, analyse both the solution and then make a decision.