How to Import Bulk PDF Files to Text Format
Rashmi Parkash
| Email Conversion email migration How to's Software Technology Windows | 4
minutes read
| Last updated on February 9th, 2023,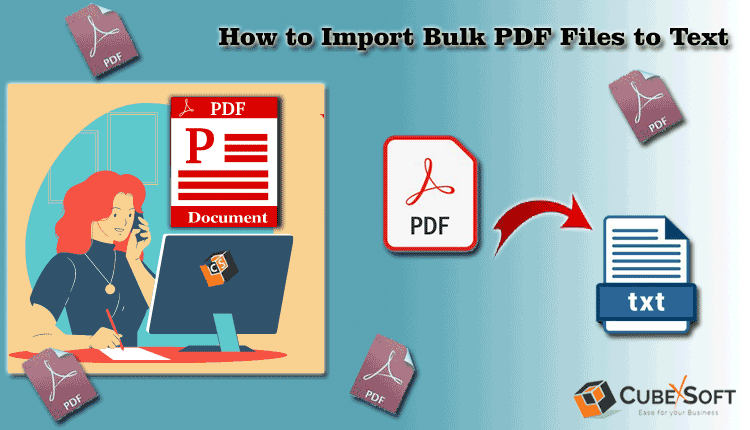 Throughout the article, we will discuss how to import bulk PDF files to Text format. To know the easy & simple solutions to do this migration process. You have to read this post carefully to understand this procedure.
You can use PDFs every day for bills, payments, documents, invoices, educational work, and the list continues. Sometimes you want to get data from PDF, and this is synonymous with immutable. That's why many of you prefer the PDF format for sharing and receiving documents. In the next section, we will learn how to import bulk PDF files to text files.
Manual Process to Convert PDF Files to Text
However, there is no direct manual method that can help you retrieve data from a portable doc file. But still you can choose to extract text from PDF in a few ways. Here are some of their methods.
Method 1# Apply Copy and Paste Command
Select the text you want to copy from the PDF file.
Make a new document file where you will paste the particular text from the PDF.
Access the newly created folder.
Finally, paste the content that you have selected from the PDF.
At last, your selected text is retrieved from the PDF file, and you can make changes to this text. But this method is successful for only one PDF file. If you are not comfortable with this method, you can opt for the next one to convert PDF files to text.
Method 2# Use PDF File with MS Word Application
Choose the PDF file and copy it to the desktop.
Click on that PDF and select the open with option
From the available list, select MS Word.
Your PDF will now appear in the MS Doc application, which is editable.
Now, you can utilize above methods to make text from that pdf.
Alternatively
When you open your PDF Doc file in MS word application. Press on File Options.
From there, select the Save As option.
After that select Plain Text (*.txt) as the saving format.
Finally, your text will be extracted from the PDF you selected.
By using the above steps, you have successfully converted PDF to plain text. These methods are easy to perform, but you may find it difficult to do so when you have many PDFs. Also, you will not be able to paste links, diagrams, bar graphs etc. Additionally, when you paste these documents into Notepad or the Word application, so you will face formatting issues as it will be different from the source. In this case, you can take the help of automated solution.
Instant and Reliable Technique to Import Adobe PDF to Text in Bulk
Automated Method – The reliable process to open the PDF file is to use an automated tool such as – CubexSoft PDF to Text Converter. It will easily change and move all the items from PDF file to Text file format, which can then be easily accessed on any Windows OS version including Windows 11, 10, 8.1, 8, 7, XP, Vista, and so on. The PDF to Notepad software supports bulk mode option you can convert multiple PDF files without any limitations on the size of PDF Adobe file. Making it easy to migrate any PDF file to TXT file. You can also select the wanted location as per your needs. So that, when the migration is completes you are simply capable to navigate the accurate path of the TXT file. It permits you to use numerous features of utility. For instance, you can simply import PDF files into TXT without any technical help.
Working Steps to Convert Bulk PDF Files to Text
Step 1. First of all install PDF to Notepad Converter on any Windows Operating System.
Step 2. Select the options from "Select File" or "Select Folder to upload PDF files.
Step 3. Then select the required PDF files by ticking the checkboxes attached with them. Then proceed further by pressing "Next" tab.
Step 4. Then browse the "Select Destination Path" accordingly.
Step 5. Press the "Convert" tab to import PDF files into TXT file format.
Here are a few of the Advanced Features of the Tool:
Allows numerous files migration from PDF to Text in a Single Time Process.

Provides dual options to upload PDF files – "Select File" or "Select Folder as per your requirements.

Supports converting all emails, from PDF files to Text file format in an accurate way.

Keep maintains all the email properties of the PDF files to Notepad in the same manner.

Windows-based solution – easy to launch on Windows 11, 10, 8.1, 8, 7, XP, etc.
Conclusion
In this blog, we have explained the perfect and most dependable solution to import all files and complete data items of PDF file to Text file format. Although we also deliver you manual techniques, they are confined to some limits.
Additionally, with professional software, you can easily convert bulk PDF files and emails to Text file format in a single round. A demo version is also available you can use and import limited PDF files to Text format for free of cost. And you can also use the advantage of numerous features of this utility without losing your data.