How to Open Outlook Email to PDF with Attachments? – For Forensics Purpose
Posted 16, Dec 2020 | By Editorial Team
If you are an investigator searching for a solution on how to open an Outlook email to PDF with attachments for showing as evidence in court? If yes, then don't need to bother, in this post, we will be provided an automated method to easily save Outlook emails in PDF format within a few simple steps without Outlook installation.
As we all know the fact that in digital file forensics, Adobe PDF files are strictly supported for showing evidence at legal places. It is so because portable documents provide multiple security facilities and their un-editable nature makes them more powerful and trustworthy for legal purposes. In order to fulfill the need for investigators who want to print Outlook emails to PDF with attachments, so we are here with today's post. The solution allows forensics officials to perform PST file conversion to PDF for legal formalities. Without wasting much time in talks, let's see how you can convert PST file to PDF format.
Stepwise Description: How to Convert Outlook Data File to PDF with Automated Tool?
First of all, download and install the software on your Windows PC accurately given the below button.
Step 1. Launch the software and click on the Add Files option, you will see a different option to load PST files/folders for the conversion process.
Step 2. After the scanning and loading process, the software loads all data items on its preview panel. Select or deselect files according to your requirements.
Step 3. Now, click on the Export button to select the PDF saving option from the lists.
Step 4. After that, set all PDF sub-options as per needs and then press the Browse option to select the destination path to save resultant files.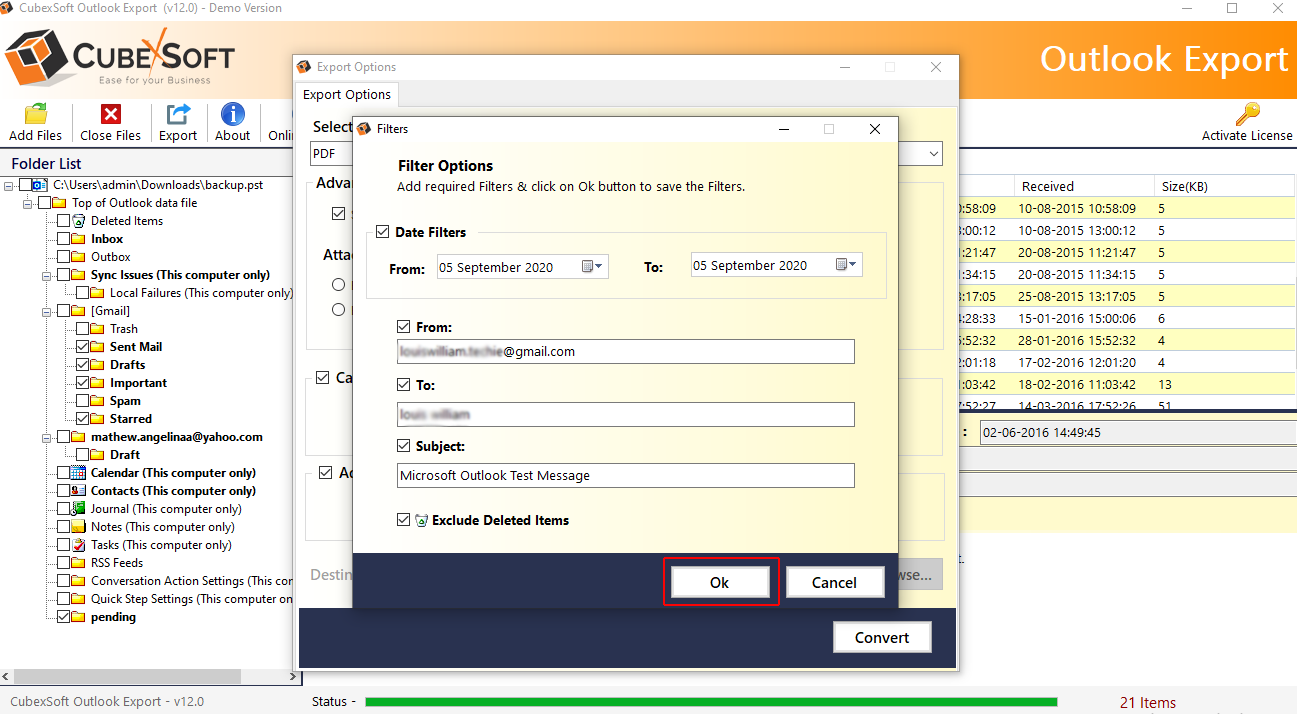 Step 5. Now, finally hit on the Convert button to start the conversion process.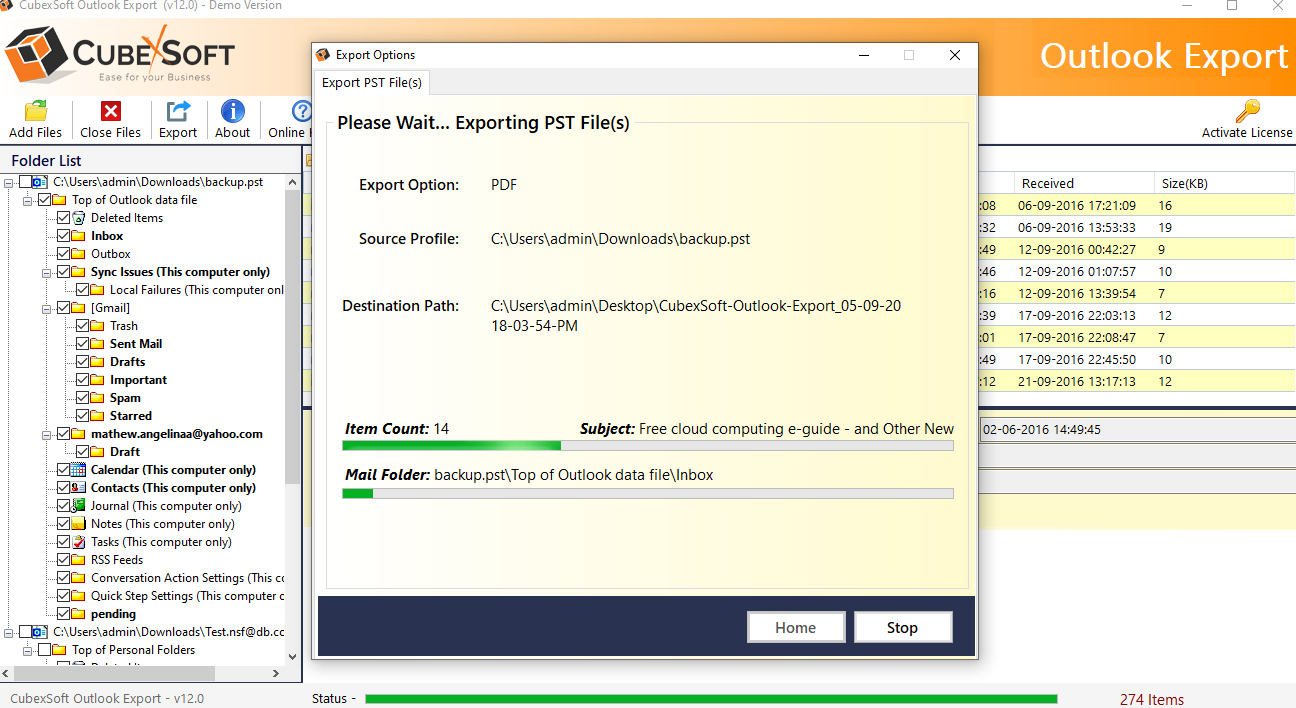 Step 6. After completing the process, the software show a message "Conversion Completed Successfully" and click on the OK button to complete the process.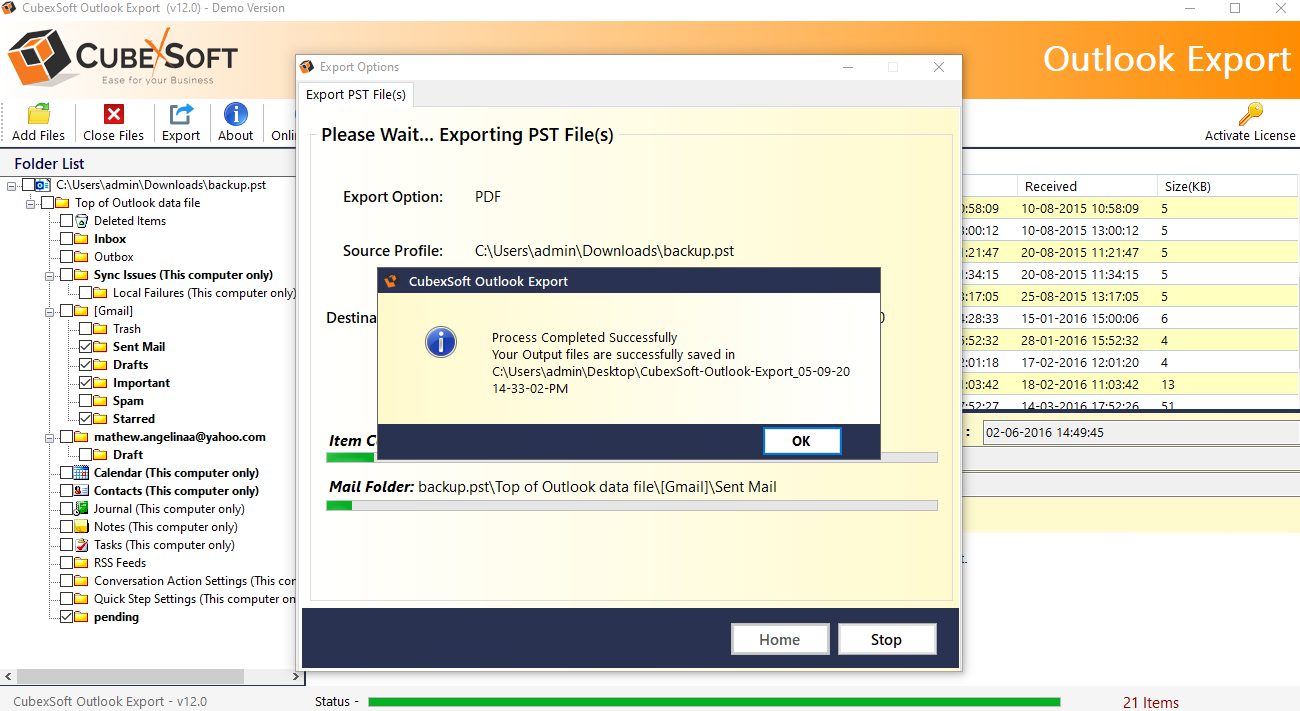 Step 7. At the end, the software shows a complete conversion summary report in .txt file format.

See, how easy to convert PST files to PDF file format effortlessly within a few simple steps. It provides all the functionalities in it that are required to forensically analyze an Outlook data file. So, investigators try this solution i.e. Outlook Export Tool. With the help of this software, you can also try the free demo version without any cost. With the demo version, users can understand how to open Outlook email to PDF with attachments before purchasing the software. Demo edition can convert the first 25 messages from Outlook mail to PDF format without any error.
What Unique Features in Updated Converter Software?
There are multiple advantages that make this updated PST to PDF utility unique, we are highlighting 2 famous features of the suggested solution that make software different from other files forensic converter product.
Multiple Settings for PDF File Converting – This software specially programmed to save Outlook data files as PDF formats with attachments without losing any data. While exporting PST files to PDF output saving option, the software offers some amazing features to convert Outlook emails to PDF format:
PDF Page Settings: With these options, you can easily set page layout for PDF file with margin, paper orientation, page size, and bates number format without any problem.
Convert Attachments into PDF Format: With the help of this feature, you can convert all attachments into PDF file format accurately without any data loss.
Conclusion
CubexSoft's developer team focused upon delivering error-free solutions to the forensics department for solving cases. We always come with easy and reliable solutions for users to easily solve the query "how to open Outlook emails to PDF with attachments". The converter software is one of the best and most appreciated measures in today's date.