How to Move MDaemon Contacts to CSV File?- Complete Guide
Sarabjeet Kaur
| Email Conversion email migration Featured How to's Software Technology Windows | 4
minutes read
| Last updated on February 8th, 2023,
Overview– This post explains how to move MDaemon contacts to CSV file. Have you ever been in a situation where you are only required to convert MDaemon contacts and not other mailbox data? Recently, we've seen many MDaemon users searching for a simple method to export MDaemon contacts to CSV file format on many forum sites. Let us look at a few queries to understand the requirements of different users.
User's Queries

"Hey, I am looking for a solution to export MDaemon contacts to CSV file for some official needs. I searched for a method but could not find anyone. Please let me know if you know a simple solution that can do this."

"I want to convert a lot of MDaemon contacts to CSV file. The problem is that I do not have a supportive program. Is there a technique to export MDaemon contacts to .csv without installing any other app?
What is CSV File?
CSV file stands for Common Separated Values. It is a common data exchange file format that can save tabular data holds numbers or text in plain text. CSV file format is one of the best formats to store contacts. A number of email clients & cloud-based email services allow converting the CSV contacts. It can be opened with Google Spreadsheet or Excel as these are known as Spreadsheet platforms.
Need to Export MDaemon Contacts to CSV
Common Separated Values (CSV) file saves limitless contacts with complete details, so various users prefer to use it to store the contacts.
CSV contact can be easily opened by any spreadsheet program such as Google Spreadsheet, Excel, and more.
CSV file format uses simple columns & rows to store the plain text so it can be simply understood by both technical and home users.
Professional Tool to Move MDaemon Contacts to CSV File
CubexSoft MDaemon Converter is the most reliable, safe, cost-effective, and advanced solution to export contacts from MDaemon to CSV accurately. This third-party software is designed for users who want to move MDaemon contacts to CSV file format for a variety of reasons. With this powerful utility, users can convert unlimited MDaemon contacts to .csv format at once without losing any details. It is a completely 100% safe and virus-free solution. You can download the program from the following tabs and use it to know the working process of the software-
Follow Simple Steps to Start the Export MDaemon Contacts to CSV Process
Firstly, download and install the Software on your Windows Operating System.
Now, select MDaemon Files/Foldes with the use of the Select Files (s) or Select Folders (s) tab.
Then, choose the Desired Data that you want to move into CSV.
After that, go to the Select Saving Options list and select the CSV option.
Pick a Destination Path for storing the resulting data on your local machine.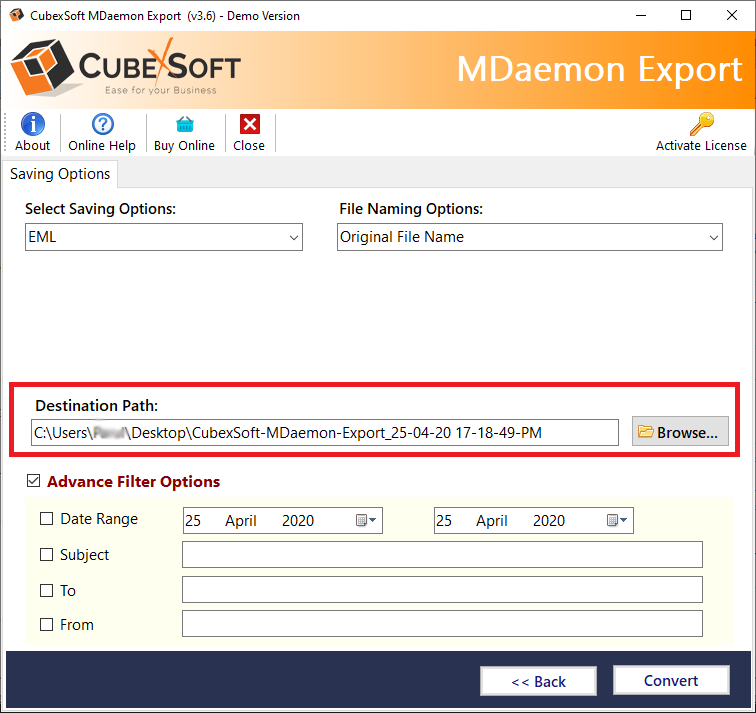 Finally, press the Convert tab to start the migration task. The process to move MDaemon contacts to CSV file is running successfully.
Please Read Me: The tool provides you a free trial edition to try how does the program work. But the demo copy comes with some restrictions like you can export only the first 25 MDaemon contacts from each selected folder. For multiple migration buy a license key.
Most Important Features of MDaemon File Converter Tool
Supports Batch Migration– This migration application allows to convert single or multiple MDaemon contacts to CSV file format at once without losing any information.
Select Desired Location– Users can simply convert MDaemon contacts to CSV format and store the output data at any location.
Standalone Utility– It is a completely standalone utility that doesn't need the installation of MDaemon or any other email client for the conversion process.
Interactive and Simple GUI– MDaemon File Converter has a simple and interactive GUI interface so that all users can smartly operate the software without any trouble.
No File Size Limitations– MDaemon to CSV Tool has the ability to export thousands of contacts from MDaemon to CSV in a single round without any file size limitations. Hence, there are no limits regarding migration.
Supports all Windows OS Platforms– The tool supports all latest and newest editions of the Windows Operating System. A user can simply download it on any Windows OS platform like Win 10, 8.1, 8, 7, XP, etc.
Multiple Popular File Formats & Cloud Services Supported by Software
Support Multiple File Formats: The robust program offers multiple local file formats to save MDaemon mailbox data like MDaemon to PST, PDF, MBOX, EML, MSG, EMLX, MHT, HTML, RTF, DOC, DOCX, XPS, ICS, vCard, and more.
Support Cloud Services: This app supports multiple email services to export MDaemon data like MDaemon to Office 365, Outlook.com, Yahoo, Gmail, G Suite, Exchange Server, Hosted Exchange Server, Zimbra, Windows Live Mail, Thunderbird, etc.
FAQs

I am using Windows 10, will this tool work in Windows 10?

Yes, of course. It doesn't matter what Windows OS edition you are using. The robust tool is compatible with all the newest and previous editions of Windows OS like Win 11, 10, 8.1, 8, 7, XP, and so on.

Does this utility maintain folder hierarchy?

Yes, this MDaemon Export Tool keeps all folder hierarchy.

How much time this software will take in the conversion process?

It is the fastest software that takes only a few seconds to export your MDaemon contacts to CSV file format.
Wrap Up
In the above article, we've explained a reliable and simple method to export MDaemon contacts to CSV format with complete details of loaded files. This utility also comes with a free demo edition so you one download it for testing purposes. With the demo edition, you will be able to convert a few items from the folder without cost. For converting bulk data, please upgrade the license edition of the program.