How to Connect Thunderbird to Office 365 Webmail?
Admin
| Cloud Backup Email Conversion How to's Software Technology | 8
minutes read
| Last updated on February 8th, 2023,
Import, Export, & Migrate Thunderbird Mail to Office 365 Cloud Database
Migration process from Mozilla Thunderbird to Office 365 or any other email application is not a simple task. Specifically, when you are moving your business emails from Thunderbird to Outlook 365 web app with all attachments. MBOX is the file type in which Thunderbird store their data including all email and attachments. But the problem in converting emails from Thunderbird mailbox to O365 account is that these email applications do not support MBOX files generated by Thunderbird. So, we need to know how to connect Thunderbird to Office 365 including all mails, formatting, and attachments. By utilizing this conversion utility, well performing and advanced Thunderbird exporting software we can successfully import Thunderbird mail to Exchange Online. Here we proudly talk about the most trusted and download Thunderbird to Office 365 Migrator software.
But, before we come to know the process of how to transfer Thunderbird email to O365, let us first discuss some situations or reasons why users need to connect Thunderbird mailbox data to Office 365 webmail.
Need to Migrate Email from Thunderbird to Office 365
Following are some of the common reasons for extracting emails from Thunderbird folder to O365 cloud database:
Offers added features of data share, communication, storage, and collaboration.
Export or convert Thunderbird mail to Office 365 to use MS cloud services or monthly rental
Transfer from Thunderbird to Outlook 365 to access and read emails through a browser on any mobile or tablet device.
Other security and data storage advantages with Outlook web app cloud servers.
Different Subscription packages for every organization based on size and necessity
Get a number of Office applications like Word, Excel, Access, Skype, Exchange Server, etc.
In this article, you will get two different approaches to save your emails from Thunderbird mailbox to Exchange Online. You can try any method amongst them, which suits you best to transfer Mozilla Thunderbird data to Outlook web app.
Manual Method to Transfer Thunderbird Emails to O365
There is no direct method available to save Thunderbird to Office 365 Webmail account. Because Thunderbird supports MBOX format to store their email data and Office 365 supports PST file format to store their emails and all other items. So, you don't have the permit to import directly Thunderbird emails to Office 365. To import Thunderbird mail in Outlook Web App, you need to follow the few steps that are mentioned below:
Step 1. Extract Emails from Thunderbird Mailbox to EML
Step 2. Transfer EML Files in Outlook Express Email App
Step 3. Move Outlook Express Mails to MS Outlook
Step 4. After moving Outlook Express email files in Outlook application, now you need to move Outlook Emails in PST File. To do that, follow the below-given process:
Open Microsoft Outlook Email App
Click on the File >> Open & Export >> Import/Export
Now choose Export to a File and then press on the Next
Choose Outlook Data File (.pst) and then click on the Next.
If you need to import all folders keep Inbox selected and press on Next
No, choose the desired saving location by clicking on the Browse option
Click on Finish button
Then, you can add a password for the file if you prefer, if not choose OK.
The mailbox has been accurately moved to a data file to the location of our choosing.
Step 5. Import Outlook PST Files in Office 365
There are two methods available to manually import PST file in Outlook 365:
Import PST to O365 by using Network Upload Method
Admin requires to configure Azure AzCopy tool, which will transfer PST files into Office 365 and copy the SAS URL which is network combination URL for the Azure storage location in OWA and SAS key (Shared Access Signature). Because of SAS key admit get the access to import PST files into the Azure storage location.
Now admin can import the PST files in an Azure storage location in the cloud. AzCopy.exe application will migrate PST files in Office 365 webmail.
Admin can see the full of uploaded PST emails that are extracted in Outlook 365 by configuring the Microsoft Azure Storage Explorer.
After converting the PST emails in O365 cloud storage, the admin has to create a CSV file that will define the mailboxes for which the PST files are exported into Office 365.
In the final step, the admin will make an import job in OWA that will use details from CSV file to move PST files to a corresponding user mailbox.
Move PST Data File in Office 365 by using Drive shipping Method
The drive shipping method is much similar to the network upload method. Though, there is only one difference that is method will use a hard drive which will be encoded with BitLocker.
Admin requires to install WAImportExport.exe tool and secure storage key which are compulsory for moving PST files in a hard drive.
By using the WAImportExport.exe tool, the admin will copy PST email files in the hard drive, the application will encode these PST emails with BitLocker tool.
Also, WAImportExport.exe program makes a journal file, which will keep information about the entire procedure.
Then, the admin will transfer the PST email files from hard drive to Azure storage area, the Import service will use the information of CSV files that will point out which mailboxes the PST files will be extracted too.
In the final step, the admin will ship the hard drive to MS Cloud. After that, the system will give the shipment number. When data present in a hard drive, it will be retained by Microsoft. The data center personnel will move the PST file to Azure storage area.
Limitations of Manual Method:
A too-lengthy process to implement for converting Mozilla Thunderbird email to Outlook web app
Need to have the full technical knowledge to follow the process
Not suitable for large size email files migration from Thunderbird to OWA email account
Alternative Third-Party Tool to Connect Thunderbird to Office 365
After going through the number of steps involved in the manual procedure, it is a very complicated and tough task and user needs complete technical knowledge to perform Thunderbird to Office 365 migration.
There is a third party solution namely Thunderbird to Outlook 365 migrator that allows quick and simple steps to resolve the problem of how to connect Thunderbird to Office 365. This tool can import, export, migrate, and transfer Thunderbird emails to Exchange online by maintaining all meta-properties, and attachments intact. You can check this software by downloading its free demo edition, before buying the license key. The Thunderbird to Outlook 365 Free download version, allows you to save 20 emails from Mozilla Thunderbird to O365 cloud database with attachments without any charges.
Now, follow the step by step process of the Thunderbird to Office 365 software to directly save Thunderbird files in Office 365 account:
Step 1. First, download, and launch the software on your desktop screen.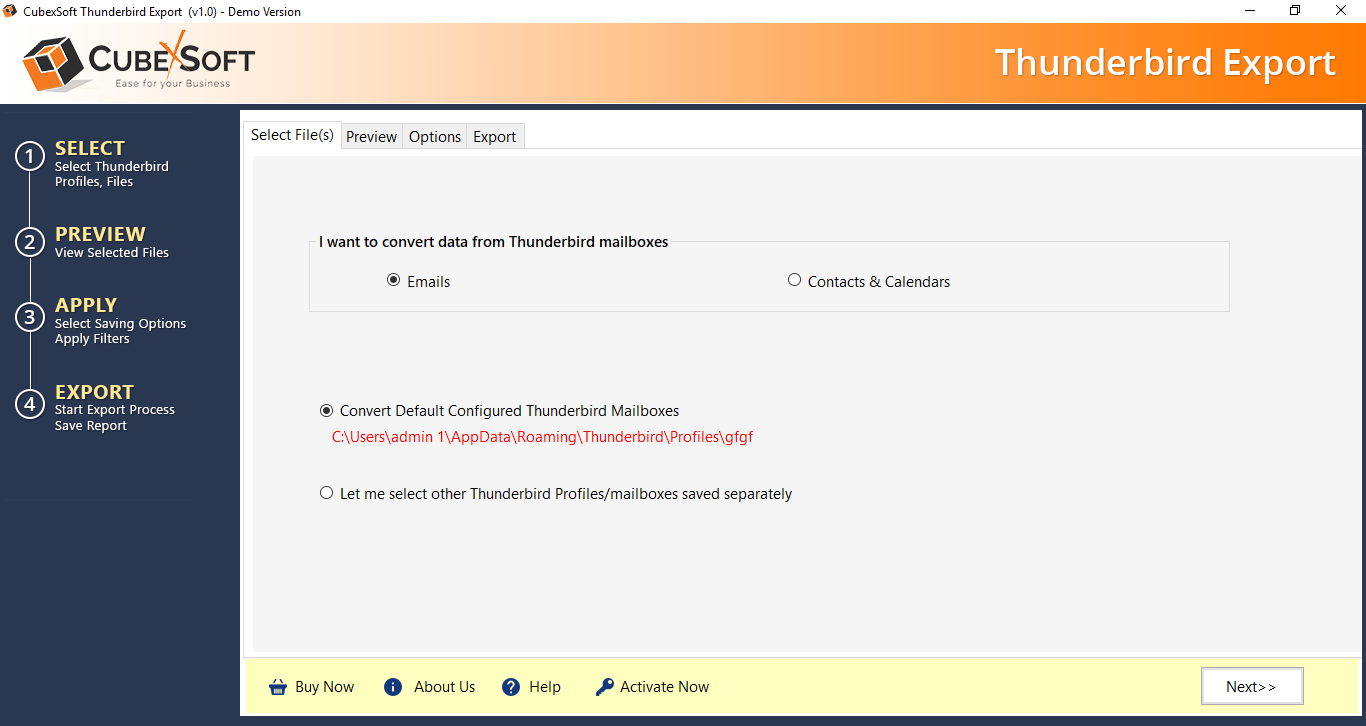 Step 2. Load Thunderbird files by clicking on Add File(s) or Add Folder option and click on the Next.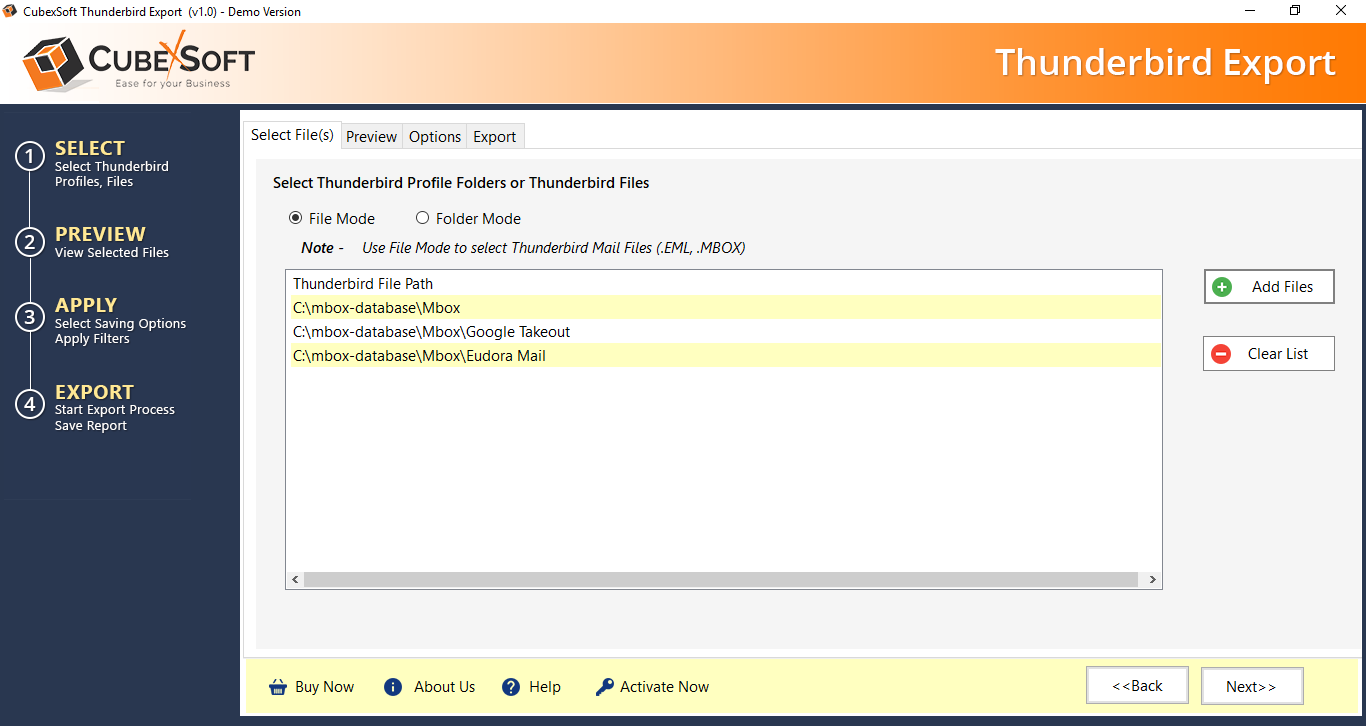 Step 3. Now the software start loading your Thunderbird mails and show preview of all the selected files.
Step 4. Next choose Output option as Office 365 then click on Next to move forward.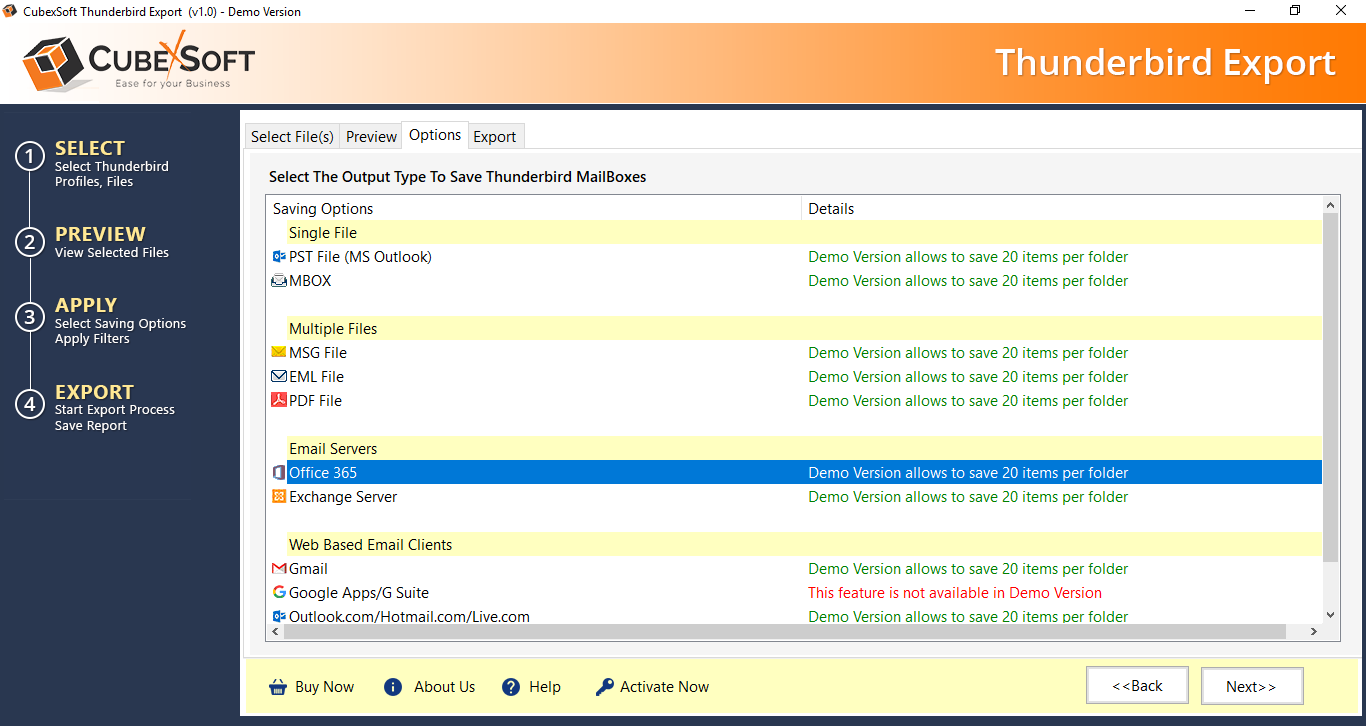 Step 5. Now, choose the options according to your need from new screen:
With Administrator – If you use, With Administrator option, then you only need to add the login details of your admin account of Office 365. And the login ID of different accounts exists in same admin account. So the output data can be exported in a desirable user account.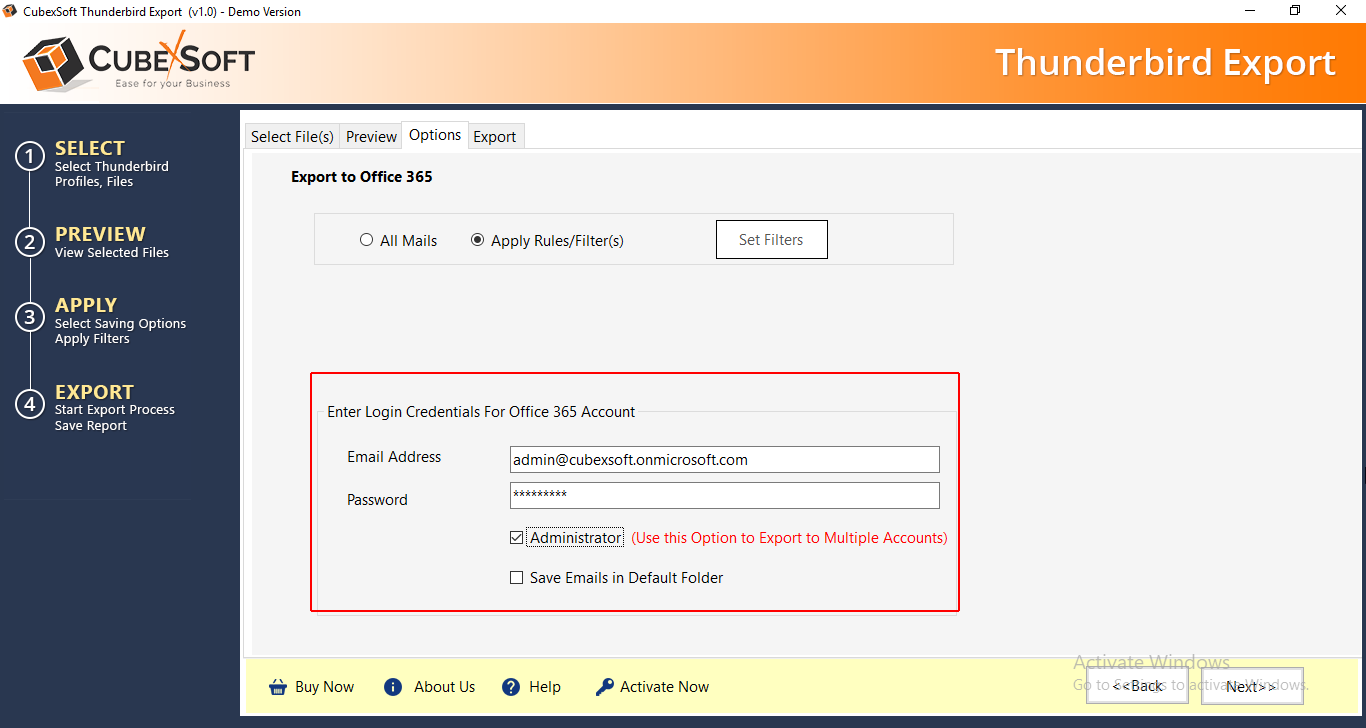 Without Administrator– If you use, Without Administrator option, then you need to add the ID and password of each user or mailbox one by one where you wish to move the output data.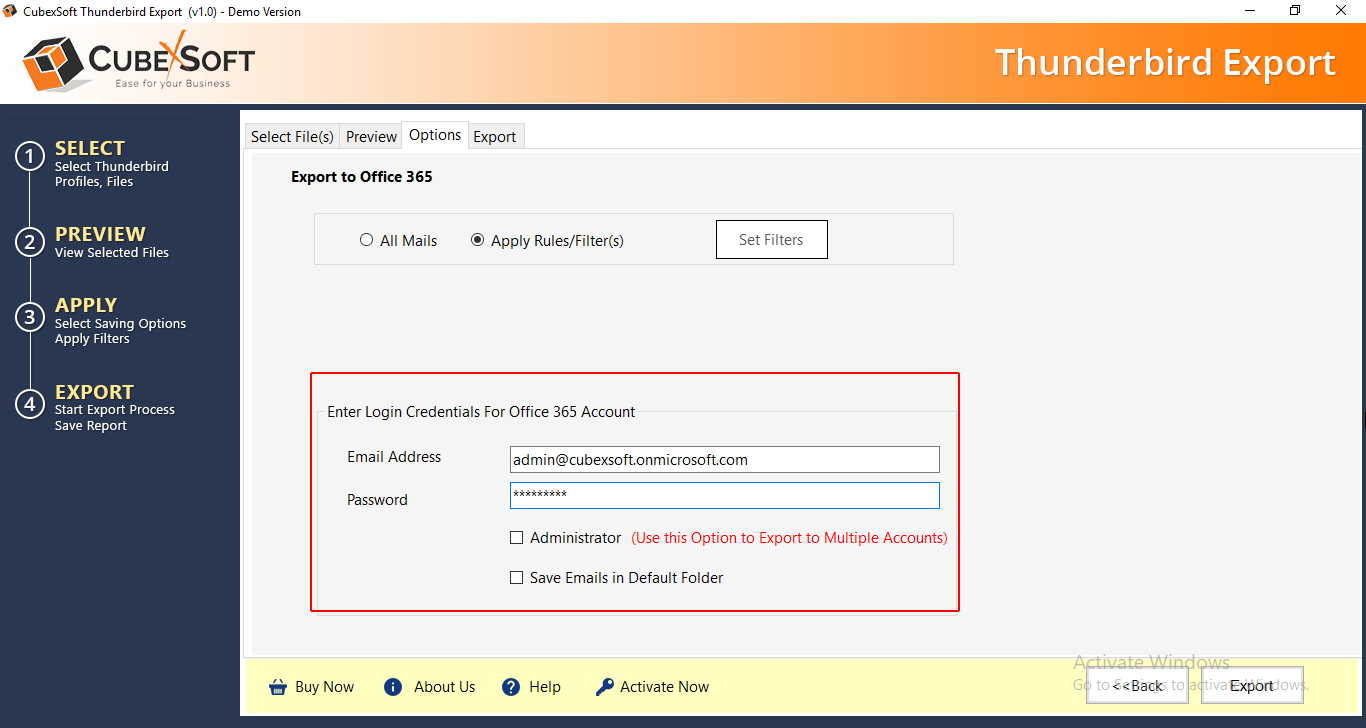 Step 6. After that, click on the Export button to start the migration from Thunderbird mailbox to Office 365 account.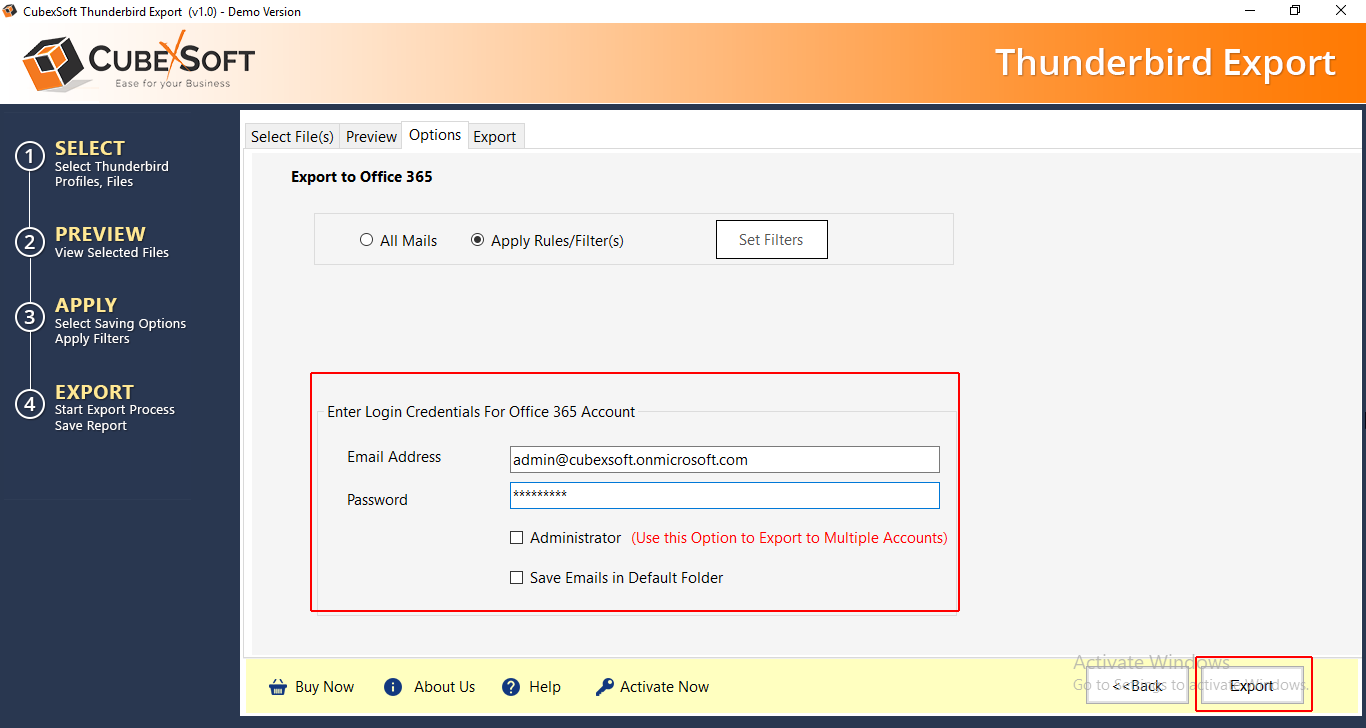 Step 7. Just after clicking on Export button, the software start the conversion process and show live conversion status.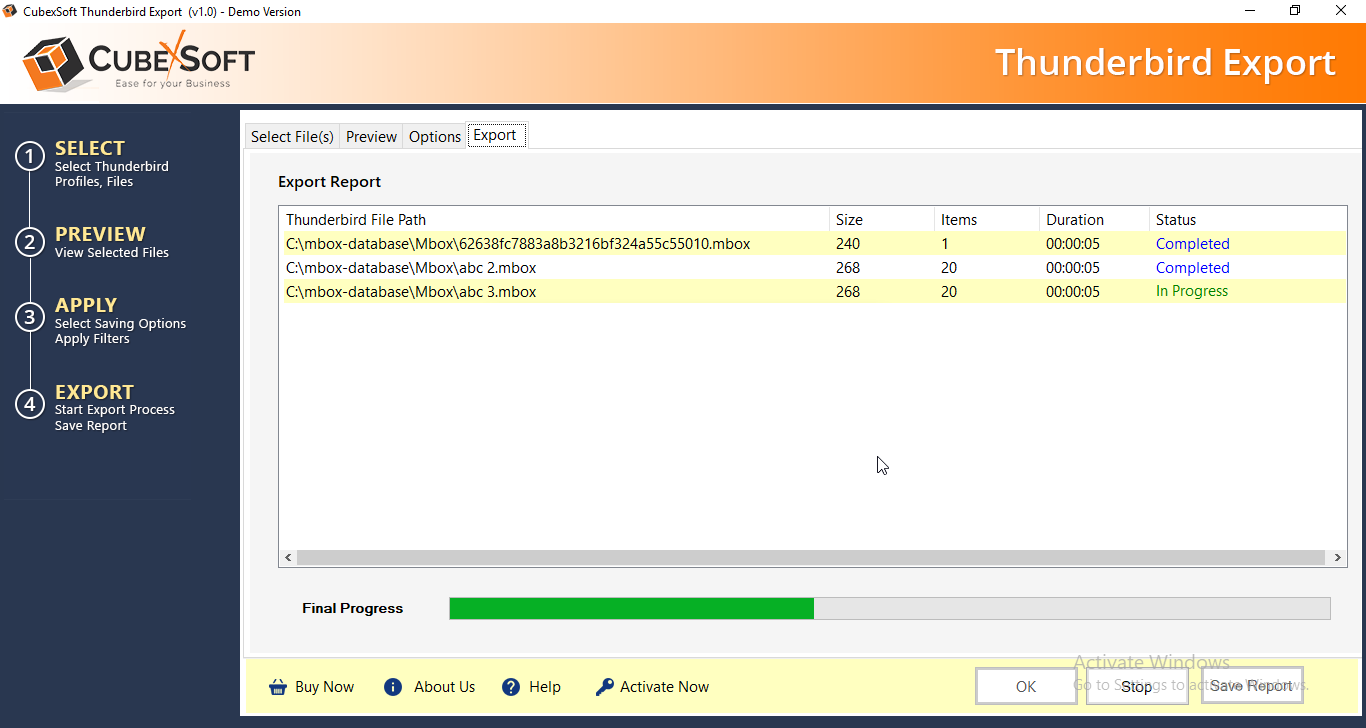 Step 8. Once the process finished, a new window will immediately open displaying the message of Conversion Completed. Click on the OK to achieve the process.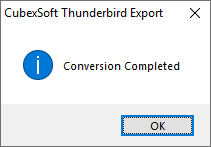 Step 9: Finally the software provide backup summary with each and every detail of conversion, click on Save report option to save the log report for future formulation and analysis purpose.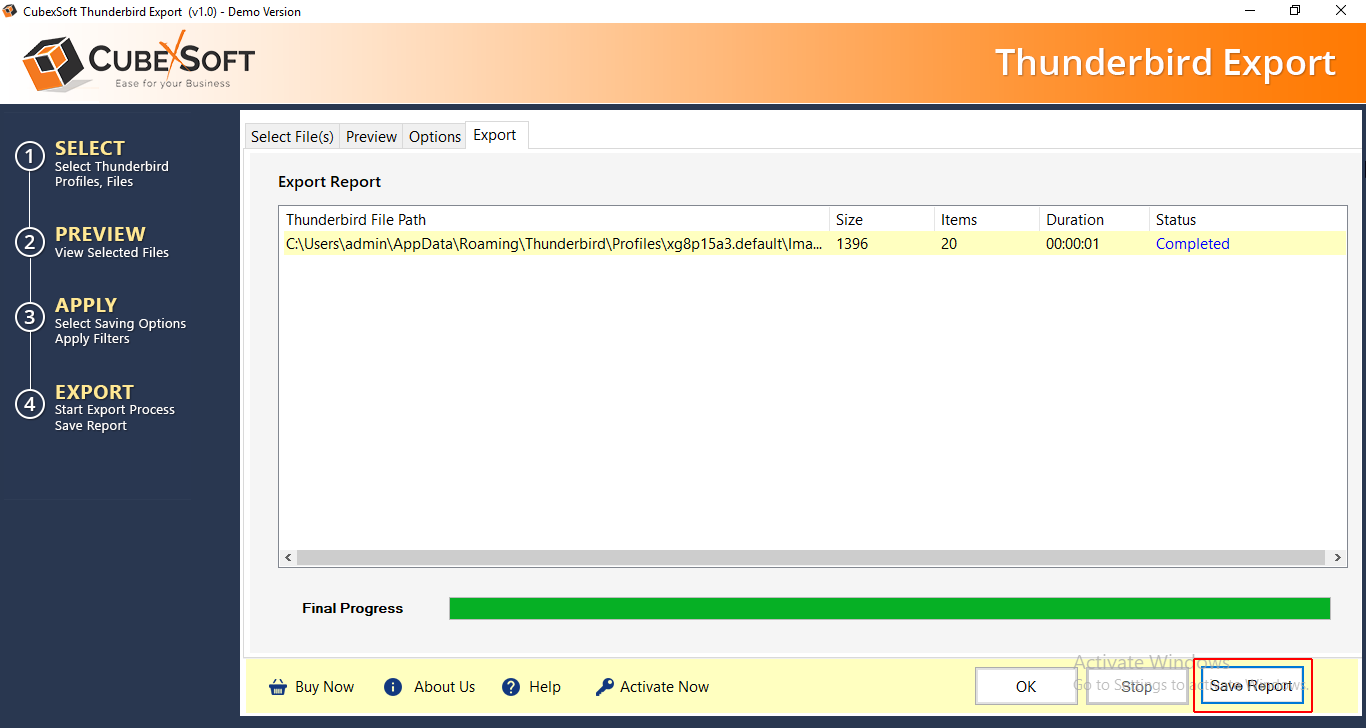 Highlighting Advance Features of Thunderbird to Office 365 Tool:
Perform bulk migration from Thunderbird mailbox to O365: The migration program is well-supportable for both single and batch mode migration. Using the Add File(s) option of the tool can choose a number of Thunderbird mailboxes via CTRL key of the keyboard. And using Add Folder option you can select complete Thunderbird mailboxes folder to connect into Office 365.
Achieve Selective conversion with Date-Filter facility: Using the software, you can also achieve choosy migration of Thunderbird files into Exchange Online with the help of the date-filter facility of the Thunderbird to Office 365 tool.
Save Report option to Save Complete Conversion Details: The software highlights the "Save Report" option when the conversion is completed. By clicking on the Save Report option you can save the whole migration report of Thunderbird to O365 with complete and correct details.
Easy to use graphical user interface (GUI): It offers very simple, attractive, and easy GUI (graphical user interface) that can smartly use by any type of professional or non-professional user to resolve the matter of how to connect Thunderbird to Office 365 account.
Well-Compatible with Window OS editions: The tool is a Windows-based program that supports to run only on Windows Operating Systems including Windows 10, 8.1, 8, 7, XP, Vista, etc. So, you can easily download and run this software on any 32-bit or 64-bit Windows OS platform.
Frequently Asked User's Queries
How many Thunderbird emails can be transferred using demo version?
You can download maximum of 20 emails per selected folder to Office 365 with the usage of Thunderbird to Office 365 Converter demo version.
Does configuration of Thunderbird necessary while using this Utility?
No, configuration of Thunderbird is not necessary while using this utility. Thunderbird to Office 365 Converter is an independent application which doesn't require any other application to depend upon for performing Thunderbird to Office 365 migration.
Can I utilise this software on my Windows 10?
Yes, you can use the software on all Windows operating system of 32 bit and 64 bit including Windows 10, 8, 7, 8.1, vista etc.
I want to migrate Thunderbird emails of 2 GB to Office 365. Does the software capable of migrating that much data to Office 365 in batch?
Yes, the software support batch migration and capable of migrating all your Thunderbird data to Office 365 in single time processing.
Does the software migrate all email attachments?
Yes, the software migrate all email with their respective attachments to Office 365 in precise form.
Testimonials

"I did not know how to connect Thunderbird to Office 365 account but this program made this task very simple and I have successfully achieved the task without having any technical knowledge. Thank you so much for launching the program. " – Jody Jackson


"I required a tool for connecting my Thunderbird mailbox data into Office 365 cloud, I searched online for times, didn't find anything appropriate for the job, all of a sudden CubexSoft's conversion tool got my attention, I used it and it worked effortlessly." – Maria Hirthe
Last Words
In this blog, we talked over a few facts about Mozilla Thunderbird and MS Office 365 and why users require to know how to connect Thunderbird to Office 365 with attachments. After that, we also provide the best and reliable method to perfectly export Thunderbird emails in Exchange Online account. If you have any type of query about the software, the first you can use the free trial version of Thunderbird Converter to Office 365 Tool that allows converting first 20 emails from each Thunderbird mailbox to Office 365 Webmail.