How to Convert Mailboxes from Powermail to Outlook PST Files?
Admin
| Email Conversion email migration How to's Outlook Software | 4
minutes read
| Last updated on February 8th, 2023,
Powermail is a Mac-based email application developed with advanced functionalities and features, which simplifies email management for the non-technical as well as technical users. It supports MBOX as the default file format to store mailbox data. Powermail includes amazing features like drag and drop menu, email storage, email search, management, etc.
Powermail searching is quicker and more precise as relate to other email applications. Along with advanced features and functionalities, the software provides an interactive Graphical User Interface, which makes it suitable for non-professional users. But, the question comes why do we require converting mailboxes from Powermail to Outlook PST files? Here is the solution – Since Powermail saves its data in the MBOX file, which is not compatible by the Outlook email client and many users require a more advanced and safe platform, they export data from Powermail to Outlook. To achieve such conversion, one requires migrating MBOX to PST format.
Here, we will talk about the simplest method to import MBOX file in MS Outlook. First, we will discuss Powermail's inbuilt functionality to convert emails from other email applications, and later we will highlight a suitable third-party solution to export Powermail's mailbox emails to Outlook PST format. But before that, let us take a look at some of the outstanding features and benefits of the Powermail application.
Amazing Features of the Powermail:
The application provides a contact list to save a bulk number of email addresses.
It supports attachments like doc, docx, xls, xlsx, ppt and pptx files.
HTML or plain text formatting for emails.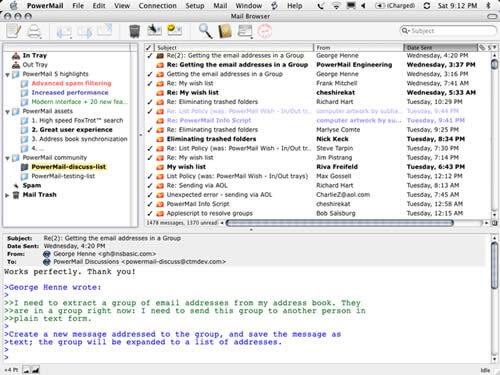 Export Powermail Emails using Export Feature
Since Powermail itself doesn't give any direct feature to move MBOX to Outlook PST, First, we have used its inbuilt Export feature to export emails to Unix Mailbox (MBOX) file format, and then we will migrate the output MBOX file to PST file format using a third-party solution.
To use this inbuilt feature, follow the below-mentioned steps:
Launch Powermail on your Mac machine.
Go to the File >> Database >> Export.
Choose the format as Unix Mailbox to convert all your mailbox data as an MBOX format file. You can also select to include attachments by checking the include attachments
Hit on the Go Ahead
The output MBOX file includes all the items of the Powermail mailbox. Now, it's time to use a trustworthy and reliable conversion tool to convert the output MBOX file to PST file format.
A Reliable Tool to Save MBOX Emails in PST Format
CubexSoft Powermail mailbox to PST Converter is an effective tool that can export MBOX files to PST format. With the use of the software, you can export Powermail mailbox emails to Outlook PST file.
It quickly extracts the mailbox data such as emails, attachments, sent items, drafts, notes, deleted items, and many more from the MBOX file. CubexSoft MBOX to PST software allows the migration of numerous MBOX files to PST format in a single process. It gives many filter options based on email properties like To, From, Subject, and Date field for mailbox migration.
The software permits the user to export bulk MBOX emails to PST files. This tool fully maintains the original formatting and structure of emails in exported PST files. The MBOX to PST Converter allows many editions of MS Outlook like Outlook 2000, 2002, 2003, 2007, 2010, 2013, 2016, and 2019. It also supports the migration of UNICODE characters. You can judge the capabilities of MBOX mailbox to PST conversion tool in its evaluation edition. But, the trial edition has some drawbacks, and therefore, you must buy the licensed edition to use the tool without any limitation. For you to get a better understanding of the software's features and functionalities here is how it works.
Step 1. Launch the tool on your Windows desktop. And click on the "Select Files".
Step 2. Now use the "Select File" or "Select Folder" option to import MBOX emails into the tool. After adding MBOX emails, press the Next button to proceed further.
Step 3. Take a preview of every added Powermail MBOX email and then click on the Export to continue.
Step 4. Now select Export type as PST option, and then choose destination location using the "Browse" option.
Step 5. After that, click on the Export button to start the conversion of Powermail mailboxes to PST format. You can view the live process with complete status.
Step 6. When the software finishes the process, it will display the success message i.e. conversion is done. Then, hit on the OK for achieving the complete task.
The Final Verdict
Powermail does not have the facility to move mailbox data to Microsoft Outlook. You must take the help of a powerful email migrator for this purpose. CubexSoft for MBOX emails to Outlook PST Converter is an effective and simplified solution that can easily convert the Powermail mailbox to Outlook PST format. With the use of the software, you can convert bulk database from Powermail to Outlook without any error.